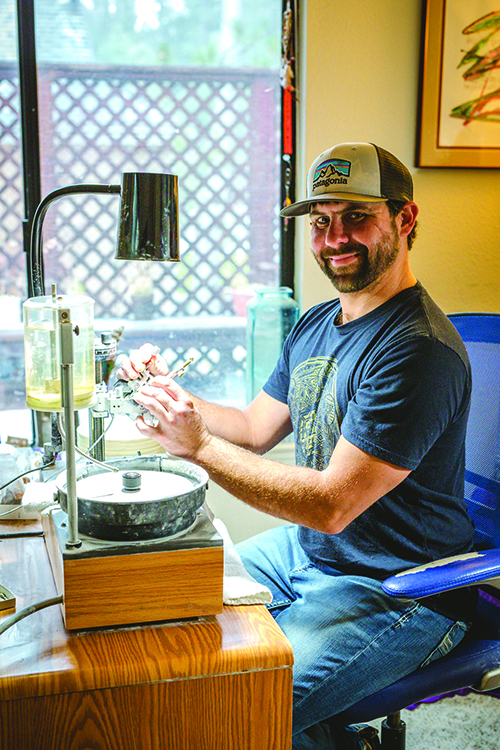 By Antoinette Rahn
Ryan Anderson
Ryan Joseph Gems
(Mr. Anderson is an artist featured in the Tools of the Trade profile sponsored by ULTRA-TEC.)
If you ask Ryan Anderson what the phrase "all in" means to him, it's likely he'd lead you to his studio and show you what he calls his arsenal of ULTRA-TEC equipment.
In case you are wondering, all in is how Anderson likes it when it comes to rockhounding, crystal mining, and the various work he does with the stones he finds, not to mention life in general.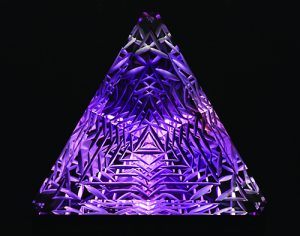 "I absolutely LOVE working with crystals. Colored stones are so special, and making gemstone art is one of my favorite addictions," said Anderson, whose business is Ryan Joseph Gems. "Whether I am at the mine pulling out world-class scepters or sunstones, or in my studio making gemstone art, I never feel like I am working a day in my life because I love everything I do."
He went on to say, "Everything I do in my life I would be doing regardless if it was my 'job' or not. I have tailored my life completely around my passions, and I hope to inspire people to be brave enough to take the same leap and do what they love, every day of their life."
Anderson's journey to his current state of being immersed in stones and all that comes with that passion began like many in the rockhounding and lapidary community, as youthful fascination, followed by a renewed interest later in life. Citing an interest in crystals as a young boy initially, it wasn't until he got into rockhounding in the early 2000s that the path became clear. A memorable trip to Hallelujah Junction with a friend studying geology resulted in discovering little pieces of smoky quartz and Anderson finding what would become his life's passion.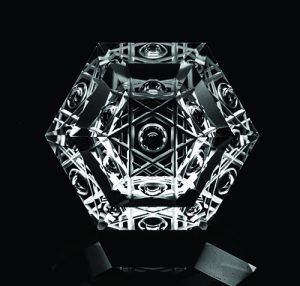 "For the next decade, I spent the majority of my 'free' time up in the mountains learning everything I could about how to find crystals, the geology of pegmatites and quartz veins, prospecting, and hiking," Anderson explained. "It wasn't until 2015 that a light bulb went off and I realized that I could probably be pretty good at making and creating gemstone art, based on my other artistic talents."
That was the point when Anderson went "all in" and purchased a full ULTRA-TEC machinery set-up and, after learning the ropes of every machine from his good friend and teacher, Larry Mattos of Ashton Gems, he "was off to the races."
"Creativity and new ideas were exploding from my brain, and the ULTRA-TEC machines helped me transfer the vast majority of my ideas for geometric patterns onto the crystals with incredible accuracy," he explained. "It turned out my new company was not just about faceting gemstones and making art, as the roots of all of the passion stemmed from rockhounding and crystal mining."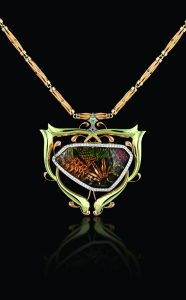 During the course of four years, Anderson and a few great friends have acquired a handful of prominent mines, including two notable locations, the sunstone mine they've named Sun Summit (formerly Pana Mine), and the mine that piqued Anderson's interest nearly two decades ago, Hallelujah Junction. The year 2020 was the group's fourth mining Hallelujah with heavy equipment, and every year the group finds what Anderson calls "the most incredible scepters in the world."
In his studio, he has nearly every piece of equipment ULTRA-TEC offers for flat faceting and fantasy cutting, including a V5 and a Fantasy Machine, along with various tools and accessories for the machines.
"I learned how to facet on these machines, so they have literally paved the way for my entire career," he added. "The equipment is perfect for precision and accuracy, which is of the utmost importance to me when making this type of art."
Looking at how lessons learned through gemstone cutting and related activities also apply to life, Anderson points to the limited time a life encompasses.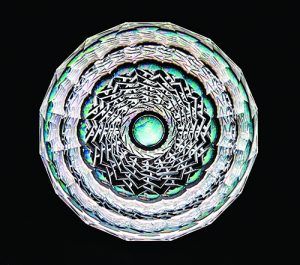 "I am a big advocate of changing anything in your life that does not make you fully happy to the core of your being," he said. "We are all here for such a short time. Life is precious. It is incredibly important to fill your daily moments with things that ignite passion in your soul, things that make you laugh, smile, and giggle ALL DAY."
With change being the only constant in life and the fear that often accompanies change, Anderson advises following the heart's desire and having faith that everything will work out for the best.
"Take the plunge and do something that brings you joy. It is incredible what we can attract when we are doing the things we love."
Clearly, in many ways, living life "all in" is a successful approach.
FOR MORE INFORMATION
Visit: Ryan Joseph Gems | Email: ryanjosephgems@gmail.com
---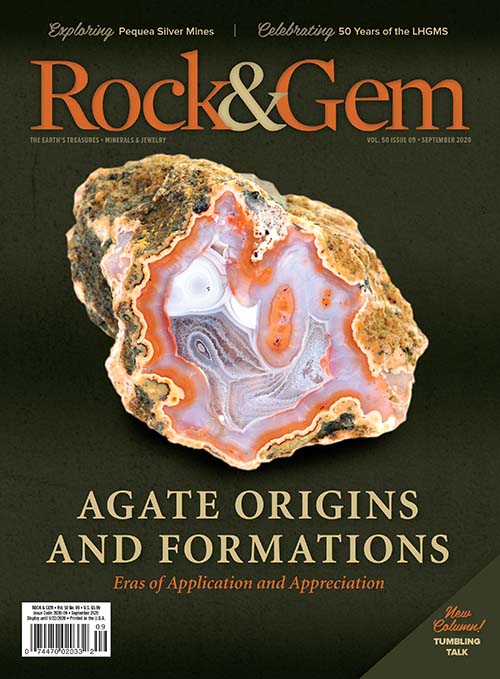 If you enjoyed what you've read here we invite you to consider signing up for the FREE Rock & Gem weekly newsletter. Learn more>>>
In addition, we invite you to consider subscribing to Rock & Gem magazine. The cost for a one-year U.S. subscription (12 issues) is $29.95. Learn more >>>
---