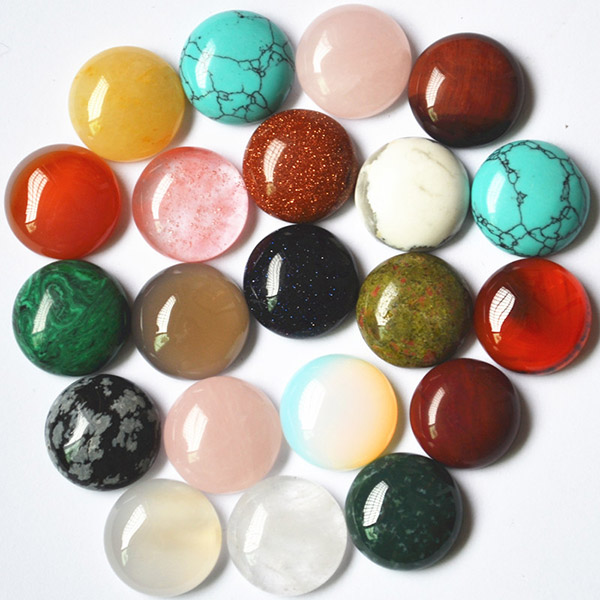 Story by Bob Rush
I'm always looking for new ideas, as well as designs, for my cabs. I often seek out and enjoy shows that stretch my imagination and enrich my concepts of designs for cabochons for jewelry. An artist acquaintance, world-renowned jewelry enamellist Marianne Hunter, sent me an invitation in early August to attend the annual American Craft Council Show in San Francisco. It is a juried show featuring many outstanding craft artists, including 94 jewelry artists—mostly metal jewelers, but including nonmetal and enamellists.
The variety and creativity of these jewelry artists is mind-boggling and almost overwhelming at times, but always very enriching and educational. It vastly expands my imagination in terms of what we as lapidaries can do to make our cabochons more exciting and visually challenging.
I recently completed two cabs that have more inside curves than I usually do. They are both made from Piranha agate and are from the same piece of stone. I tried to stretch my skills in design and complexity, thinking forward to the lapidary classes that I teach at Camp Paradise, the Earth Sciences Program sponsored by the California Federation of Mineralogical Societies (CFMS) in late August and early September. I want to be able to give the advanced students a design challenge for one of their cabs.
These Piranha agate cabs challenged me to combine carving activities with my usual cabochon methods; therefore, they took more time and patience to complete. I didn't have any particular use in mind beyond just adding them to my collection of cabs, which I display in a case at the annual September CFMS show in Placerville.
I decided to take these cabs to show Marianne at the craft show to get her thoughts on the shape, materials and design. After looking them over, she instinctively held them back to back with the matching stone patterns touching. Then she moved the smaller one lower. The way the pattern flowed from the top cab to the bottom one was stunningly beautiful and showed me another way the two cabs could be combined. Because they are rather large, it is not likely that they would be suitable for a single piece of jewelry, but I realized that I could make smaller and similarly shaped cabs for a jewelry piece.
You can find Marianne's fabulous and creative enameled jewelry pieces, which incorporate material that lapidaries are familiar with, on her website, http://hunter-studios.com/. She uses an enameling process of her own development, combined with metal work in 24kt and 14kt gold and Argentium silver. One piece that really strikes me is called Kabuki Kachina, Flower Festooned. The piece consists of two enamel panels around a centerpiece of carved chrysoprase, made by Sean Davis, and is accented with emerald and diamond. The kachina is suspended from a necklace strung with emerald, gold and pearl beads.
Another piece that really impresses me is called Kabuki Kachina, Robed in Memories. It utilizes Ocean Jasper® cabs in multiple shapes surrounded by 24kt, 14kt and sterling silver bezels. In the hands of an artist as impressive and imaginative as Marianne, cabochons with a repeating pattern of orbicular features, in complimentary shapes and sizes, are combined with natural pearls and green turquoise beads into a stunning necklace and pendant.
Seeing how they can be utilized by such a distinguished and creative artist as Marianne inspires me to further develop my carving and cabochon-making skills. To trigger your imagination, go to shows that are outside the norm to seek inspiration and enjoyment. It is a wonderful experience!