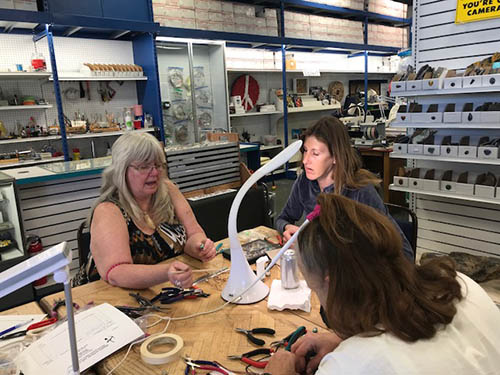 Editor's Note: This is the second in a two-part series about Mining Supplies & Rock Shop. Read the first part>>>
By Jim Brace-Thompson
Last month, I introduced Cyndy Mandell and Lois Papner and related the story of their struggles and successes in establishing Mining Supplies & Rock Shop in Hesperia, California. This month, I explore what I came to see as their unique business mission that truly sets them apart, namely, building not just a store for commercial success but a sort of educationally oriented "town commons" for rockhounds. Cyndy is a retired fifth grade teacher from the Hesperia School District, and Lois is a retired administrator from Citrus College. Thus, education is inherently entwined in their DNA.
When I learned of the headaches in trying to establish a business, I asked Cyndy and Lois what pleasant surprises they've encountered that make this venture worthwhile. "The fun of educating people," Cyndy immediately replied. She sees real curiosity out there. People want to learn. A couple of customers got so enthralled in the shop that they volunteered to work for free just to learn more about rocks! (The offer was turned down while pointing them to a local rock club.) Cyndy herself came somewhat late in life to the hobby and finds that continued learning enriches the mind and keeps her active.
When assuming ownership of Mining Supplies & Rock Shop in 2016, they wanted to make it more than a shop for commerce. They envisioned a sort of community center where rockhounds might come together, share knowledge and skills, learn together, have fun together. This vision is being realized in a three-pronged approach involving outreach to local schools and kids, hands-on lapidary classes, and field trip experiences.
Prong One: Educating Kids – and Adults!
Although Cyndy has retired from the teacher's desk, she and Lois continue going out on school visits to provide talks and programs for local teachers and their classrooms. The shop is closed Mondays and Tuesdays not only to tend to paperwork and shop maintenance, but also to allow time for school visits. Cyndy knows the curriculum and rhythms of the school year and thus knows what teachers want in a talk and when best to deliver it. Cyndy and Lois are members of the Women in Mining association, and two of their regular hands-on activities for school kids can be found on the WIM website www.womeninming.org: "Making Toothpaste from Rocks" and "Cookie Mining." They also serve as a conduit to guide teachers and their students to gold panning demonstrations provided by local prospecting clubs and have assisted in teaching kids the basics of successful panning.
Within the shop itself, an emphasis on kids and education is apparent the moment you enter the door. The first thing you face is a shelving unit filled with rocks and "Gem Hunt" digs pitched directly to kids alongside an invitingly bright yellow M&Ms bin filled with tumble-polished stones for just 50 cents each. Their price ranges are just right for kids. One of my pet peeves about gem shows nowadays is the lack of dealers with what I call "kid friendly specimens at kid friendly prices" to encourage and enable a new generation to enter the hobby. No worries on that score at Mining Supplies & Rock Shop. Kids can even get a handful of tumbled stones for just a quarter from gumball machines!
The shop also features a collection of rocks and minerals behind glass in a wall gallery. These include specimens collected locally and educational displays like "The Three Rock Types." While intended to educate, Cyndy also somewhat sheepishly admitted to a commercial aspect, noting that at the end of the day they are not a museum and that samples of each rock on display are also for sale in the shop.
They extend their educational mandate to adults, as well. At least once a month, someone comes in with a "meteorite" that always turns out to be a "meteor-wrong" and they'll offer basic tips on how to tell the difference. Another comes in with water-filled jars of "gold" from his backyard. Cyndy and Lois haul out the old maxim "all that glitters is not gold" as they explain how gold would tend to sink to the bottom of the jar, not float on top as flakes of mica are want to do. They've learned the fine art of gently letting down newbies while maintaining and fostering their enthusiasm for the hobby.
People also come in to buy the most expensive gold panning equipment available, thinking they'll make a fortune in short order. Instead of jumping to the cash register, Cyndy and Lois take the time to question the customer, gauge her level of experience, and often will lead her to gold prospecting clubs, building on the good relations they have with the Au Mojave Prospectors, High Desert Gold Diggers, and Valley Prospectors. They would rather educate folks so that they come back to make an informed purchase rather than get an immediate sale. When it works (and it doesn't always), it proves satisfying to hear people say, "I'm so happy you're here!" as they leave empty-handed but return later with smiles to show off their first vile of real gold and to make a purchase of the very tool they need.
Prong Two: Jewelry and Lapidary Arts Classes
When Cyndy and Lois began in 2016, they converted space in their house into a little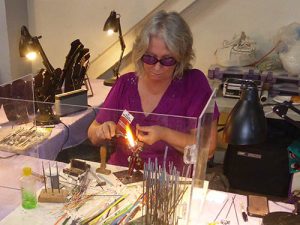 lapidary studio, and friends began gathering informally on Thursdays. Thus began the germ of an idea. With education being a priority, it seemed reasonable to offer classes on jewelry making and artisan techniques right at the store. Cyndy and Lois found a ready supply of knowledgeable instructors through their existing network of friends and colleagues, including several from the Victor Valley Gem & Mineral Club.
Upon moving the store to a larger venue in 2018, the workshop space landed squarely inside the shop, and classes are taught within view of customers. This provides an enjoyable diversion for customers while tempting them to join in the fun, and a nearby sign-up sheet offers to keep customers posted about future class offerings. Also, some people come in with a stone that they ask to be made into jewelry, or a piece to be fixed (such as a turquoise bracelet with one stone missing). When they observe a class session in progress and see just how it's done, some sign up on the spot to learn how to do it themselves. Most classes go for a fee of $45 and take just two or three hours, although others are more expensive and involved. The curriculum introduces a range of skills.
Many people begin with cabochon making, and Barb Schultheis and Ana Esquivel ("Barbana" for short) teach all steps needed for taking a rock slab and cutting, grinding, and polishing it into a gleaming domed cab. There are varied ways to then set that cab into jewelry. In just two hours, Judy Witte teaches beading techniques to craft a beaded cabochon to wear as a pendant. Diane Quinn teaches how to use silver jeweler's wire to wrap a cabochon to wear as a ring, bracelet, or pendant in another two-hour session. In a related class, students bring their own cabochons and, over the course of four hours, Christine Janicki teaches how to wire weave around it.
More solid settings require silversmithing, for which you can enroll in a two-sequence course. In Silversmithing A, Barbana team up once again to introduce all the tools and materials needed to craft a simple band ring from silver over the course of three hours. If you had fun with Silversmithing A, you can then move on to Silversmithing B and learn to bezel-set your cabochon for a pendant. In addition to silversmithing, two more classes are considerably more involved than the others. One is a six-hour course on lampwork beads in which C.J. Quitoriano teaches techniques of working with glass and torches to produce beautiful glass beads. In another, Marina Shoupe teaches how to carve a piece of jade into a sculpture or jewelry piece with a mirror polish.
Finally, once a month Cyndy herself teaches how to link jump rings together in different patterns to craft a chainmaille necklace or bracelet. Cyndy also gives informal lessons on basic rock tumbling, and Ana has hopes and plans to offer a soapstone carving course just for kids.
The classes have proven popular and because of limited space, students are enrolled on a first-come, first-served basis with payments required in advance. But not to worry: most classes are offered multiple times a week, including week days and weekends, with morning or afternoon hours. Enrollments are kept intentionally low at three or four students to ensure one-on-one attention from the instructor.
Prong Three: Public Guided Field Trips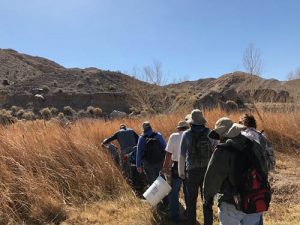 While you can purchase rough rocks and slabs for your lapidary work, it's much more satisfying to craft a beautiful piece of jewelry from a stone you've collected yourself. Having led a gem and mineral society, Cyndy and Lois both knew one big draw such clubs have for new members is the opportunity to get out and self-collect while enjoying the great outdoors. In their prospecting clubs, gold panners expressed interest in getting more educated about the pretty rocks they would occasionally find while panning. They also field questions from customers who ask about a particular rock and are surprised to learn it came from a publicly accessible location not so far away. They show immediate interest in collecting similar pieces themselves.
Thus, with Hesperia being more-or-less a gateway to Mojave Desert collecting localities that have attracted generations of rockhounders, Cyndy and Lois decided to offer monthly field trips to nearby areas. They were at a loss, though, as to how to proceed. Enter Justin Zzyzx. Justin had encouraged Cyndy and Lois to sponsor field trips from the moment they opened their shop doors, and he served as their field trips leader to get the program off the ground.
They charge a fee of $10 per person for each trip if signing up in advance and paying at the shop or online via PayPal, or $20 for those who show up unexpectedly at the gathering spot. Everyone signing up in advance receives an email alert with directions to a gathering spot, the time to meet, an overview of what will be found, the necessary tools to bring, and approximate duration of the trip. The fee covers a small stipend for the field trip leader but primarily goes toward insurance, which can cost the rock shop as much as $800 per year.
Initially, Cyndy believed no one would come if they charged any fee at all. Most field trips sponsored by a local rock club are free, and rockhounds are notoriously frugal (i.e., cheap!). But Justin convinced her to give it a go and, far from dissuading folks, the fee seems to motivate them even more, perhaps because it commits them. They see as many as 70 people on a truly successful trip and sometimes many more.
Spreading the Word
They thought they might have trouble getting word out because venues such as the local events listing in their area newspaper only allows entries by nonprofit groups. Instead, they've relied on social media: their shop website and Facebook page and LA-Rocks (a group discussion site for rockhounds in the greater Los Angeles region, https://groups.yahoo.com/neo/groups/LA-Rocks/info). They also rely on good old pencil-and-paper with a sign-up sheet in the rock shop. In the past year, 300 people have left names and email addresses to be alerted to upcoming trips. They also see a lot of return trippers. For instance, while I was at the shop, a man named Denny came in who glowed about the program and proudly noted, "Did 'em all! Great times!" He had nothing but praise even after having twisted an ankle and bruising his face in a fall on a trip to the Calico Mountains. Far from being put off, he was back "in my favorite shop" enquiring about how to get a rock saw so that he could cut his finds from that very trip!
The purpose of offering field trips is the same as their decision to offer lapidary classes,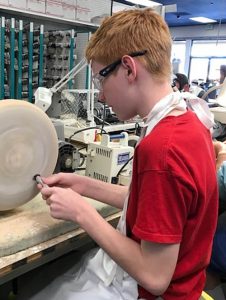 namely, to educate people. Customers often express curiosity about where the rocks on display came from and how to find them. While it is immensely satisfying to introduce such folks to the fun of field tripping, it is not without challenges, such as ladies who show up in high heels or Ugg boots, the man who thought he could drive his fancy Mercedes on back country dirt roads, or the woman with a low-clearance Honda that bottomed out on a big rock, puncturing her oil pan. While most localities are easy to get to with a regular car, others are definitely off the beaten path, and
Barb related how one trip resulted in not just one but two flat tires that stopped their whole caravan.
With the field trip program firmly established, Justin has passed the baton of leadership to William Johnson and his wife, Jana, starting with their February 2018 trip. Trips taken the first half of 2018 included localities considered classics in the Barstow area and along the old Route 66 corridor: barite and borate mine dumps around Lead Mountain, Afton Canyon, the ever-productive Cady Mountains (a longtime staple of gem trail guidebooks), highly accessible Kramer Junction that has been popular among rooky rockhounds since the 1940s, Jackhammer Pass, and another easy and accessible trip to Mule Canyon near Calico Ghost Town. Finds from these trips have included barite crystals, fluorescent calcite rhombs, colorful agates and jaspers, fluorite, sagenite, moss agate, petrified palm, and travertine onyx. Trips are open to all age groups, and their less strenuous outings have seen kids as young as 5 tagging along with little pails in hand.
Living and Learning
For those wanting to go out on their own, Cyndy and Lois stock a full selection of traditional collecting guides such as the "Gem Trails and Falcon Press Rockhounding" series. But they also stock a guide written expressly about the localities where they take most of their trips and promoting the general area around the shop. Entitled Rockhound Barstow, it was written by Justin Zzyzx and illustrated by his wife, Brandy, with Mining Supplies & Rock Shop sponsoring its publication. The print version guides you to a website accessible by a PC or smartphone with locations pinpointed using Google Maps along with additional locations not in the book. As Cyndy Mandell says in an afterword, "rockhounds love to collect because it is enriching, educational, and fun!" That single sentence sums up and encapsulates the mission of Mining Supplies & Rock Shops.
Cyndy was anxious to acknowledge many people who have assisted them along the way and who have been named in these two articles. Just as it takes a village to raise a child, so it takes a village to establish and grow a successful rock shop. All are good and valued friends who supported them with physical help and labor, encouragement, or a shoulder to cry on. They feel their business is what it is because they had such gracious help along the way. It has proven a tough haul to make a go of it, especially in their first couple years and, lately, with the expensive move to a new location. But they show the passion and group support to make a go of it. There's a real community spirit about the place – among the employees who were helping in the store the day I visited, to supporting local artists, hosting a local tailgate, supporting nearby prospecting clubs, and supporting schools and kids. All this makes Mining Supplies & Rock Shop a true rock shop of distinction!