Editor's Note: This is the second in a three-part series. Enjoy the first part >>>
Photos and story by Helen Serras-Herman
Lubbock is a city in West Texas with about a quarter-million residents. It is home to the Museum of Texas Tech University and the Lubbock Lake National Historic Landmark, two major museums with exhibits on the dinosaurs and mammoths that roamed the plains of prehistoric Texas. Visitors can see fossil remains or replicas, and learn all about these great Ice Age animals, as well as the Southern Plains cultures that have flourished in the area for the past 12,000 years.
The National Ranching Heritage Center
The National Ranching Heritage Center (NRHC) is located in the adjacent city block, at 3121 4th Street. To be honest, the title did not draw me in; however, several local people raved about it and said that it was a site not to be missed. And they were right!
The NRHC is dedicated to preserving and interpreting the history of ranching.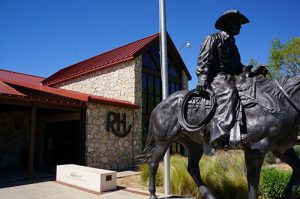 It has a main building with exhibit galleries and an open-air park with relocated and restored ranch structures that offer visitors a walk back in time.
Paved pathways wind around authentic, restored houses, cabins, barns and windmills, stables and a carriage house, a blacksmith shop, and even a cemetery, all on a 19-acre historical park, which is part of the 27-acre site.
Recognizing Hard-Fought Survival
These structures were built between 1780 and 1950, and tell the story of the early ranchers and their struggle to survive. The well-planned and landscaped outdoor park transports visitors' imaginations to another era. Many of the man-made hills around the park are berms constructed from topsoil covering bricks and rubble left by the 1970 tornado that devastated Lubbock. Several of the buildings are outfitted with period furniture.
All signs are in both English and Spanish. We spent over two hours walking around and absorbing the history. The NRHC offers a 30-minute trolley tour every Thursday morning at 10:30 a.m., but we were not lucky enough to catch that one.
Just outside the NRHC main building is the J.J. Gibson Park, where 19 life-size, bronze sculptures of longhorn steers, created by native Texas sculptor Terrell O'Brian, commemorate the Texas Trail Drive Era of the 1860s through 1880s. The NRHC is open to the public at no charge every day.