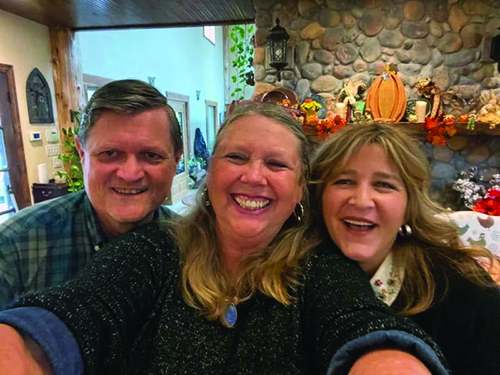 By Antoinette Rahn and Tracy Alvarez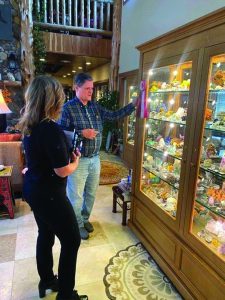 Walking into the home of Gail and Jim Spann is similar to entering a museum, but there is an unequivocal sense of belonging, and a comfortable familiarity, even during a first visit. That may seem odd to some, but if you've been involved in the gem, mineral, rock, fossil, and lapidary community for any sense of time, it's not entirely surprising.
"We absolutely love the mineral world, and we are just so happy to share that with others," said Gail. "We also feel like we're ambassadors for the mineral world in a way."
That sense of joy, and the desire and devotion to promoting the wonder of minerals, is evident in the way this Rockwall, Texas, couple meets the world each day. For this former competitive bicycle racing couple, both of whom raced mountain bikes and road bikes, it was a visit to the Houston Museum of Natural Science that opened their eyes to the wonder of geology and mineralogy, according to a report in the Blue Ribbon News.
That life-altering museum visit occurred 15 years ago, and in short order, the Spanns each purchased their first minerals from Weinrich Minerals (Gail) and The Arkenstone Gallery of Fine Minerals (Jim).
The inaugural mineral purchase started the two on one of their greatest and most extensive adventures, which is saying a lot because "Adventure is our big word," explained Jim. He also shared that the two of them are achievement-orientated people, and they revel in continuously learning and amassing experiences.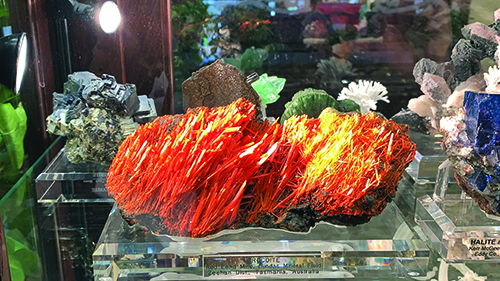 "We always have an adventure on the horizon," Gail added, about a wide variety of adventures that include traveling, inviting others into their home, and, of course, virtual experiences.
Over the past 15 years, the Spanns have built a collection, which one could say is the awe and envy of collectors, museum curators, academics, gallery owners, artists, and dealers worldwide. The collection numbers more than 14,000 minerals, and many of those fill the 72 beautiful cabinets located in various areas of their home, while others are on loan with museums around the world. Their mineral acquisitions contributed to their need to complete a 9,000 square foot home expansion in 2018. They report that their mineral acquisition pace has slowed, mostly due to the lack of space, they explained.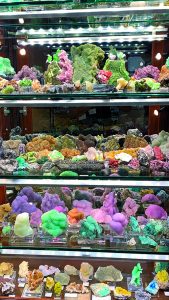 Experiencing a Spann collection tour is a fusion of natural beauty, earth science, history, and art appreciation, which is a field Gail is all too familiar with being an artist and former owner of an art gallery. The minerals are arranged by region of the world and type. And the provenance of many pieces creates a lesson in history unlike any other. Plus, the collection has served as a remarkable resource for many, including the couple's son, Tom, who is a world-renowned mineral photographer.
Among the Spanns' collection is a piece that once belonged to Washington Roebling, a noted civil engineer who oversaw the Brooklyn Bridge's construction. Another case contains a truly "patriotic" appearing specimen of euclase with fluorapatite from the La Marina Mine in Colombia. Renowned mineral collector Gerhard Wagner of Germany found this to be amongst his favorites within the Spann collection. Then there is a striking lapidary necklace made of pyrite and once owned by the wealthiest woman in the 19th century. Plus, there are minerals the couple purchased from China that they've never found anywhere else in the world and that were inexpensive at the time of purchase. Today, many are largely impossible for many people to find or afford, Jim said.
"It's just amazing and fun to know when you hold the mineral; it's something they held," Gail said. "I wonder what they were like. What were their lives like? Who were they?"
The provenance of many of the minerals can often be as intriguing as the mineral itself. Case in point is a silver wire specimen, which resembles a tree and once belonged to Archduke Stefan of Hungry. He was a prince within the Habsburg family that ruled the Empire in Hungary before WWI, Jim said. The archduke was an avid mineral collector. At the time of his rule, the empire included most of central Europe, which was resource-rich, and being serious about minerals was a true benefit. So, too, was being the person in charge.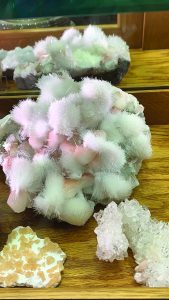 "When he'd want to have mineral labels made, he'd stop the presses at the place the Empire's currency was printed and he'd make his labels on those same presses," Jim said, pointing to the label, likely a linen composition with a gilt rim and special printer ink, that sits in the Spanns' collection beside the specimen.
"That label is probably worth more than the rock," Jim added with a chuckle.
Other impressive items in the collection include "rocks" made out of construction paper by Maylee, Aiden and Lilly, three of the couples' 10 grandchildren. These are in the same category of "priceless finds" as a specimen of iainite. If you are not familiar with iainite, that's certainly understandable, as it was the stone their grandson Iain, who at the age of five found in the driveway and brought to his grandparents for their collection. It was named, numbered, and cataloged by the Spanns with a description value of "priceless."
Supporting, encouraging, and learning from younger members of the mineralogical and rockhounding communities has always been at the core of who the Spanns are and what and why they do what they do, they explained. They are active within various Facebook groups, sponsor a young person to travel to and experience the Tucson Gem and Mineral Show each year, speak to and work with the University of Texas at Dallas' Geoscience Club, do a live social media feed program, and invite young collectors to their home for a tour and events.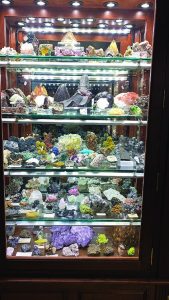 "Young mineral collectors give us great hope for the future – we're really optimistic of what is to come," Gail added.
At a time in history that is, for many reasons, unlike anything most people alive today have experienced, the sense of belonging and being part of something greater than oneself is becoming even more important and highly sought after. This is where the mineral world has many wonderful things to offer, according to the Spanns.
"You can meet people from around the world, and regardless of their social, economic, or cultural background, everyone speaks the same language — we all know minerals," explained Jim. "All cultures around the world throughout human history have collected minerals and gemstones. It's a universal language."
Just like all of us, rocks are different from one another, but they also have more in common with one another than differences that separate them. Ah, yes, rocks have a lot to teach us.
---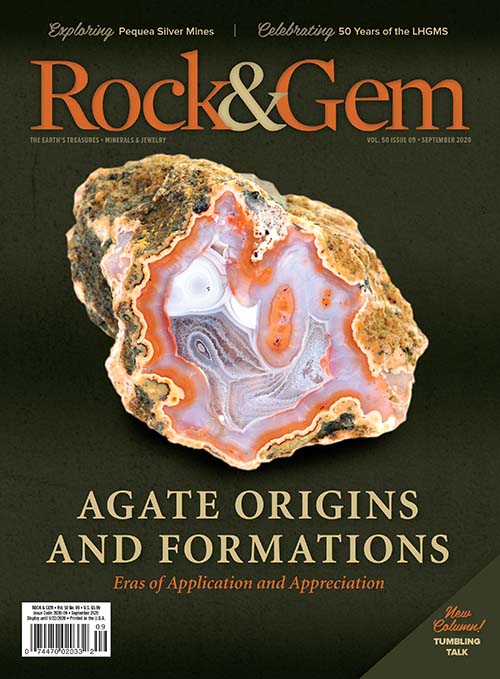 If you enjoyed what you've read here we invite you to consider signing up for the FREE Rock & Gem weekly newsletter. Learn more>>>
In addition, we invite you to consider subscribing to Rock & Gem magazine. The cost for a one-year U.S. subscription (12 issues) is $29.95. Learn more >>>
---