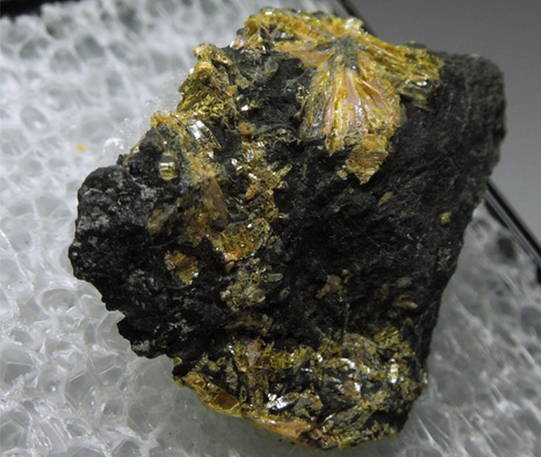 By Antoinette Rahn
The mineral orpiment provides a great lesson in the importance of knowing mineral composition as it relates to storage and display.
The orpiment specimen is on offer by Luciana Barbosa and open for bids at mineral-auctions.net. 
This arsenic trisulfide mineral has a Mohs hardness of 1.5 to 2. It is also a photosensitive mineral, which is known to produce a white film if exposed to light for long periods of time, according to information at minerals.net. With this being the case, it's recommended orpiment be stored in an enclosed space away from direct exposure to light. In addition to its sensitivity to light and more fragile structure, as an arsenic trisulfide it does contain a certain amount of arsenic, which makes it toxic to handle.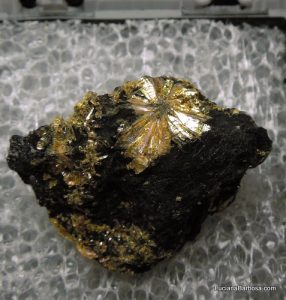 Despite the fragile, light sensitivity of this arsenic-based mineral, it often presents as a brilliant gemmy butterscotch color, as well as bright yellow, orange, and orange-red. Adding to the striking color, the crystal formation is commonly prismatic, chisel-shaped, and appears triangular in shape, and the mineral is formed as a hot-springs deposit, according to information published at Britannica.com.
Among the most common locations orpiment is found are deposits in Iran, Macedonia, France, and Peru. Plus, a recent addition to that list is the area of Humboldt Co., Nevada, and the locality of the featured specimen, Tooele Co., Utah.
While the mineral's toxicity is well known today, Middle Eastern artists were known to use orpiment as a form of paint during ancient times.
The science of mineralogy is a truly fascinating way to study history.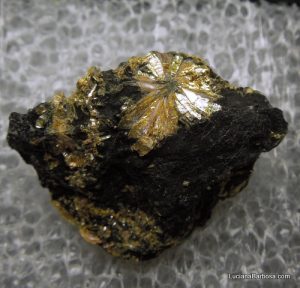 ---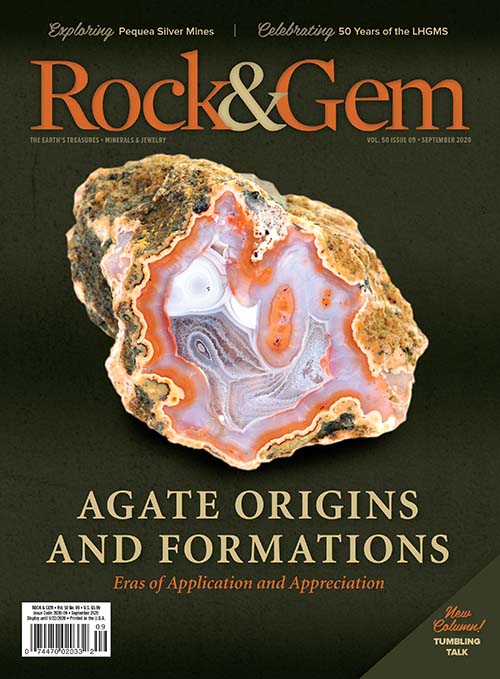 If you enjoyed what you've read here we invite you to consider signing up for the FREE Rock & Gem weekly newsletter. Learn more>>>
In addition, we invite you to consider subscribing to Rock & Gem magazine. The cost for a one-year U.S. subscription (12 issues) is $29.95. Learn more >>>
---