Very Peri is the Pantone® Color of the Year for 2022 with a blend of blue and violet hues. Why is this important to rockhounds and lapidary artists? The Color of the Year influences decorating and buying trends. Finding materials to match will keep shops and collections up to date.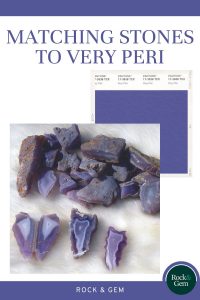 A small number of lapidary materials and gemstones match the Very Peri color, including purple sapphires, black crystal opal with purple-blue flashes, lavender jade in a more pastel hue, sodalite (ultramarine blue with a purplish tint), dumortierite quartz, Burro Creek agate and kunzite.
Among the gem materials taking the top spots for matching that specific blue-violet shade of Very Peri are tanzanite, plum-color star sapphires, lavender chalcedony – especially Holley Blue chalcedony, sugilite combined with richterite, tiffany stone and charoite.
The Impact of Pantone's Color Choices
The Pantone® Color Institute, Inc., recognized for its proprietary color system, is a driving force influencing and forecasting fashion color trends in clothing, textiles, furniture, home décor, and gems and jewelry. Jewelry designers and lapidaries find inspiration for new designs among the featured colors, the sophisticated names and the proposed color combinations.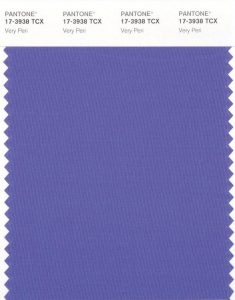 The carefully chosen color names, and their elaborate descriptions, exude a luxury feel and an exotic or natural sentiment that may add some poetic sensation to jewelry and lapidary artwork. The new Very Peri color, according to Pantone's website, encompasses the qualities of the beloved blue color combined with a violet-red undertone, and brings a "joyous attitude and dynamic presence that encourages courageous creativity and imaginative expression."
Very Peri Lapidary Materials
Some of the lapidary materials matching the Very Peri Pantone color include transparent gemstones, which are usually faceted, while others are opaque materials more often cut as cabochons, and as carvings, beads, eggs and spheres.
Charoite
Charoite is a rare silicate mineral with the chemical formula K(Ca, Na) 2 Si 4 O 10 (OH,F). It occurs only in massive form, not as crystals. Charoite is named after the place of its discovery, at the Murunskii Massif, at the confluence of the Chara River and the Tokko River in the Sakha Republic, Yakutia of Eastern Siberia, in Russia. It is a singular deposit in the world.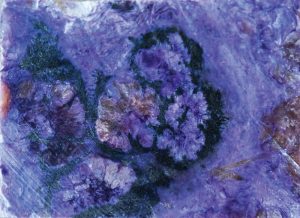 Charoite is mostly opaque, at its best highly translucent, and exhibits beautiful swirling patterns of various shades of deep lilac-violet to purple color attributed to the coexistence of manganese and iron (Mn 3 + and Fe +). White, fibrous, asbestoscharoite bands display silky chatoyancy -a cat's eye effect -and pearly luster.
Flower Charoite
Charoite occurs together with other minerals, including canasite and carbonates, quartz, pale green microcline feldspar, dark green to black star-shaped sprays of aegirine-augite, sphene, raspberry red fedorite and golden chatoyant blades of tinaksite. This creates striking chrysanthemum flower patterns. A distinct variety known as "flower charoite" articulates the rich visual complex mineral patterns reminiscent of a painter's brush strokes, or delicate crown stems of flowers. Flower charoite has a beautiful, visually ornate look, and some pieces contain bluish-violet hues that match exactly the Very Peri color.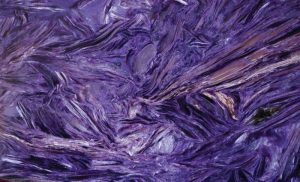 The distinctive interlocking, fibrous texture of charoite can at times be challenging for the lapidary. Correct orientation (parallel to the banding) and slow cutting is paramount to avoid flaking, shredding, or splintering tendencies, which can be frustrating especially during the later stages of sanding, close to finishing and polishing. Charoite's hardness is Mohs 5-6. Cut gemstones take a great polish, best by using diamond all the way. Cabochons with beautiful swirling or flower patterns and scenic landscapes are most desirable. Charoite is also cut into beads, spheres, eggs, and decorative items, such as daggers, vases, bowls and boxes.
Tanzanite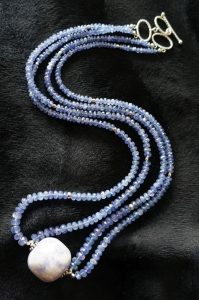 Tanzanite is the rare blue-violet variety of the mineral zoisite, named after the African country of Tanzania where the gemstone was first discovered at the hills of Merelani in 1967. The trade name, tanzanite, was first introduced by Tiffany & Company. Tanzanite has a chemical composition of Ca 2 Al 3 (SiO 4 ) 3 (OH) and a Mohs hardness 6 to 7.
Tanzanite crystals exhibit pleochroism (or trichroism) with three distinct colors – blue, violet and burgundy – in three crystal directions. This optical property can be challenging for the lapidaries. Cutting, especially faceting, may depend on the best-desired color or most crystal weight retention.
Natural tanzanite crystals usually form in a brownish color, but heat treatment –sometimes by nature or in the lab – turns the gemstones into a brilliant blue-violet color. Tanzanite faceted gemstones may fetch very high prices depending on their color saturation and size. Tanzanite is also fashioned as beads, often faceted because of their translucency.
Bertrandite
Bertrandite, also known by its trade name Tiffany Stone, is a fluorescent beryllium hydrous silicate, mined at the Topaz and Spors Mountains in Juab County, Utah. Tiffany stone is a mineral canvas with purple fluorite, white to pale yellow opal, massive violet bertrandite, and chalcedony. It occurs in various color arrangements, mostly in violet and cream tones. Splashes of dark pink and red colors and drusy quartz pockets, add to the rarity and value.
Holley Blue Chalcedony
Holley blue chalcedony is a cryptocrystalline (very small crystals) variety of quartz. The material is found near Holley, just four miles southwest of the town of Sweet Home, in Linn County, in western Oregon. Holley blue chalcedony's color ranges from deep blue to lavender-blue and may also have white fine lacey bands and fortification patterns. Sometimes it occurs with an outer layer of rhyolite. This gel-like material is held in high esteem by carvers for its distinct color and uniformity.
Sugilite
Sugilite is a pink to purple cyclosilicate mineral with the complex chemical formula KNa 2 Li 3 (Fe, Mn, Al, Zr) [Si 12 O]. It is commonly found in a massive form, not single crystals. The best-known mining location is the Wessels Mine, in Northern Cape Province in South Africa. It was first found in Japan by petrologist Ken-ichi Sugi (1901-1948).
The Japanese name, Sugi, is pronounced with a hard "g" as in geese, but the mineral is commonly pronounced with a soft "g" as in "gene." That "mispronunciation" has become the norm. Sugilite's hardness is Mohs 5.5-6.5.
Sugilite colors include lavender, purple, lavender-pink, and dark purple. Material with bright purple color and high translucency (gel sugilite) is considered the rarest. Occasionally, sugilite occurs with blue veins of the mineral richterite that match the Very Peri color, making a stunning color combination.
This story about Very Peri stones previously appeared in Rock & Gem magazine. Click here to subscribe. Story and photos by Helen Serras-Herman.