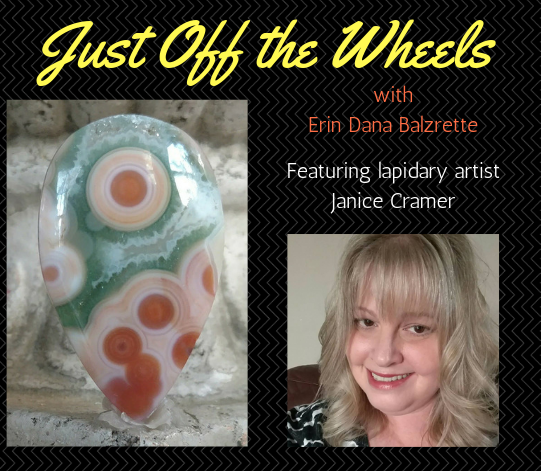 By Erin Dana Balzrette
Anyone fortunate enough to chat with Janice Cramer, quickly realizes she is "just one of those people." Kind-hearted, caring, quiet, compassionate, a wonderful friend, hard-working, and an amazing lapidary artist. I hope you enjoy learning more about Janice.
Erin Dana Balzrette: Where did you find the material for this cab, and what drew you to it? 
Janice Cramer: This is Ocean Jasper from Northern Madagascar. It is a form of chalcedony, which is a hard and durable material that always produces a high shine. It is also an agate, a type of chalcedony.
This one has high definition coral and cream orbs surrounded by rivers of teal greens and druzy crystals. Did you know that the orbs actually form in 3D, like a ball, the sun or the moon? A circle can represent totality, wholeness, and perfection. The orbicular patterns always draw me in on an emotional and spiritual level.
EDB: How long have you been a rockhound and lapidary artist, and what attracted you to cabbing?
JC: I started in 2006 when my boys were young and we hunted for sharks teeth around the Ashley River in Summerville, South Carolina. This was shortly after the heavy loss of my sweet son, Jason. It was an activity the four of us, my husband and our two other boys could do together outside in the fresh air that brought a type of healing for me. For a short time, it focused my energy away from re-living the trauma over and over. My boys and I learned to wirewrap the teeth so they could be worn.
I also discovered beads. A little joy. I honed my craft first making jewelry then making cabs for the jewelry and now making cabs for other jewelers. I have been cutting cabochons for about eight years. For me, it's a type of spiritual journey, a way of healing. Using water and diamond blades and wheels I grind away the imperfections, (the broken parts, the hurt, and the pain), and hard crust exterior (that formed around my heart for protection) to release the joy and beauty within.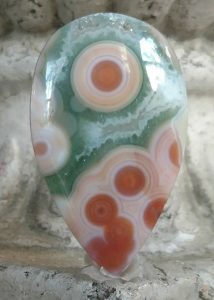 EDB: What process do you use when creating cabs? Is there any special technique used when creating the featured cab?
JC: I lean towards rocks that are higher on the Mohs hardness scale. The Ocean Jasper (pictured here) has a Mohs hardness of 7 on a scale of 1 to 10 with 1 being chalk and 10 being diamond. These rocks generally produce a high shine and are very durable. I create slabs from an 18" slab saw.
Once slabs are cut, I select the portion of the slab that will please the viewer, even if it means wasting lots of material. The art is already there, my part is to find it! I use templates to isolate and view the portion of the slab that is most desirable. I own piles and piles of templates. I find this necessary, especially for symmetrical designs. Sometimes I deviate from the template when I find that a freeform shape will show the stone's features better. I then mark my design using an Ultra Fine Sharpie.
Using the Sharpie outline, I carefully trim around the area with a 10-inch slab saw. Then the grinding begins. My current setup is 80 diamond wheel, 180 sintered diamond wheel, and the NOVA wheels 280, 600, 1200, 3,000, 8,000 and 50,000. I use the Rio Grande Max 30 Variable Speed Grinder. I like the fact that it has water flow valves over each wheel, internal sealed fluorescent lights, LED shield lights and rolling armrest.
EDB: What is a new cabbing approach that is bringing you great excitement?
JC: My cabbing approach is the same as the old-timers. Tried and true. I start with a 45-degree angle at the edge and decrease the angle as I move towards the center. If the slab is especially narrow, I might make a flat cabochon, where there is no dome. These have become increasingly popular. Bevel the bottom edge slightly to avoid chipping and always polish the backs.
EDB: What advice you would like to give new lapidary artists?
JC: Get involved with a community like your local gem and mineral society. Some have lapidary equipment you can use. Go to gem shows. Some have equipment dealers you can talk to in person. Take a class. I went to the William Holland Lapidary School in Young Harris, GA., which helped me to decide that lapidary is for me.
EDB: What is your motivation to create, and your favorite part of the process?
JC: I love it all, but I have to say, seeing our mail lady come to the door with a box of new rocks is most exciting. I can't wait to play and find their hidden secrets.
---
WHERE TO FIND JANICE
Company Name: Handcrafted Jewelry Designs
Instagram: https://www.instagram.com/cramerjanice
Facebook: https://www.facebook.com/janicecramer14
Facebook Groups: Cabs and Slabs
---
Author: Erin Dana Balzrette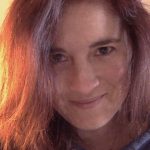 Owner of Tree Climbers Stones, co-founder of Facebook's 'Stone and Silver' group, and weekly host of the 'Ladies Day/Night' Auction on Facebook's 'Cabs and Slabs' group.
She is a long-time rockhound and a GIA AJP. To view more of her work, visit www.tcstones.com.