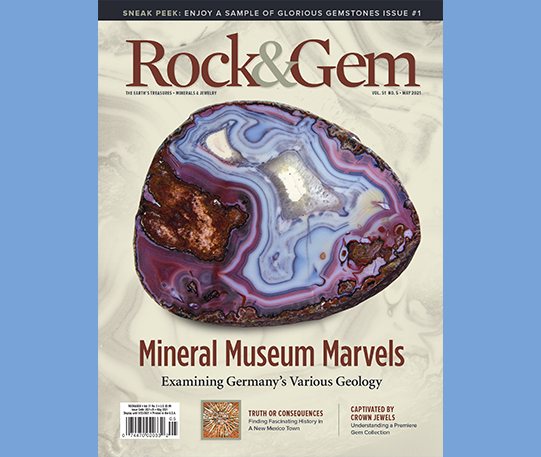 Below is a snapshot of some of the topics and interests you can expect to see in the pages of the May 2021 issue of Rock & Gem. Plus, we've included some sample pages for you to enjoy.
• HARD-TO-FIND GOLD AND SILVER SPECIMENS: Rarely Accessible, Largely Sought-After. By Bob Jones.
• FOSSIL FINDS: MERCENARIA permagna: Nature's Blend of Fossil and Crystal. By Joseph "PaleoJoe" Kchodl.
• EXPLORING GERMAN MINERAL MUSEUMS: Must-Visit Destinations Showcasing Geological Treasures. By Doug Moore.
• EVOLUTION OF A GEM SHOP: Getting to Know The Gem Shop, Inc. By Antoinette Rahn.
• MEXICO: A Mineral Collector's Paradise. By Bob Jones.
• THE CROWN JEWELS OF THE U.K.: Examining the History of the World's Premiere Gem Collection. By Steve Voynick.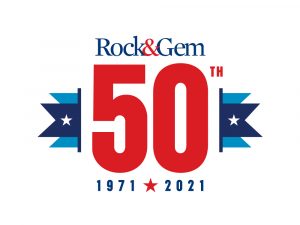 • R&G REVISITED: Ceruleite – A Rare Copper Gemstone (August 1976). By Bob Jones.
• SNEAK PEEK: GLORIOUS GEMSTONES
• CLUB CORNER: Catching Up With the Sublette Rock Hounds. By Antoinette Rahn.
• GERONIMO SPRINGS MUSEUM: Becoming Familiar With the Repository of Local and Mineral History in Truth or Consequences, New Mexico.
• A ROOKIE PROSPECTOR'S TALE: Living and Learning While Enjoying a 'Senior Adventure' at Royal Peacock Opal Mines, Inc. By Gary Monroe.
In addition, you'll find the following regular R&G columns: Bench Tips with Bob Rush, Rock Science with Steve Voynick, What to Cut with Russ Kaniuth, On the Rocks with Bob Jones, Rock & Gem Kids and Earth Science In the News with Jim Brace-Thompson, Just Off the Wheels with Erin Dana Balzrette, The Road Report with Helen Serras-Herman, Show Dates, and the always popular Parting Shot.