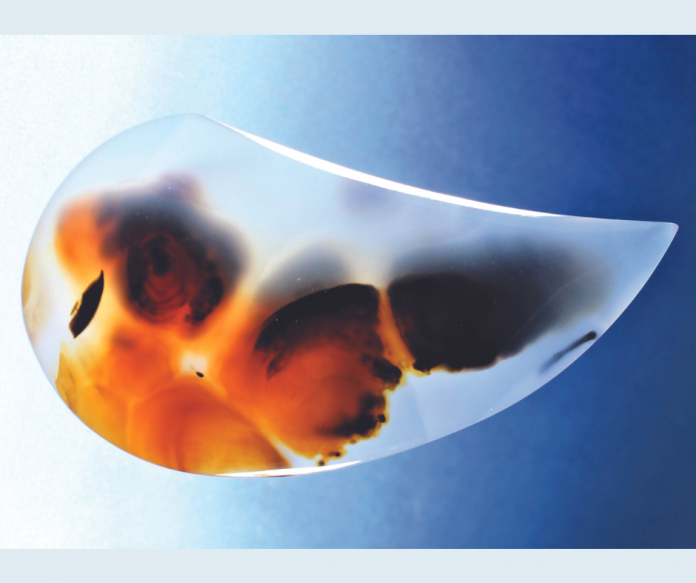 Making inside curves is a step beyond basic cab-making. Templates don't usually include shapes with an inside curve. Utilizing this shape, however, can add considerably to the appearance of the cab.
Here's how I made an inside curve preform template with a slab of Turkish stick agate and then used the template to make a final piece on Montana agate.
Drawing the Shape
First, I drew a 1-1/2-inch circle from a circle template onto the slab. Using a larger circle template, I then drew a semi-circle segment on the left side of the first circle with a 3-1/4-inch round template. Finally, I drew the inside curve with a 6-inch diameter plastic bowl. This segment connected the right side of the first circle to the outer tip of the second circle segment.
Making the Shape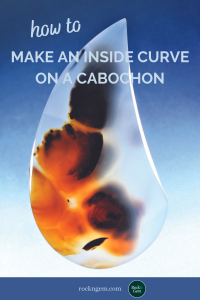 This shape design is intended to take advantage of the 6-inch diameter of the cab-making machine's wheels.
After I trimmed the excess material on the preform with my trim saw, I ground the outer shapes on the cab machine.
To grind the inside curve, I turned the preform from its usual horizontal position to a vertical position. Holding the preform against the wheel and looking at the side of the wheel, I ground to the previously drawn inside curve line.
When the grinding of the outer shape of the preform was completed, I used the cab to mark the shape on a transparent piece of plastic sheet so I could make a template for later use. I used a small metal bur to shape the inside of the plastic template. Then I smoothed the inside with a piece of 220 grit sandpaper.
Making the Final Piece
Using the template, I positioned it on the Montana Agate slab to get the best pattern possible. I then proceeded to grind the perimeter shape of the cab including positioning the cab vertically to get the inside curve ground.
As I started grinding the dome shape on the front of the cab, I again held the cab vertically but at the correct angle for the dome. In this instance, I looked down from the top of the cab as I was holding the cab against the wheel.
All future work on the inside curve required holding the cab vertically and rocking it toward the left to get the proper curve to the dome shape of the cab. All of the other shaping and sanding steps are those normally used to shape a cab.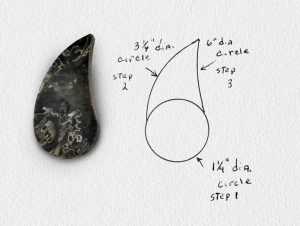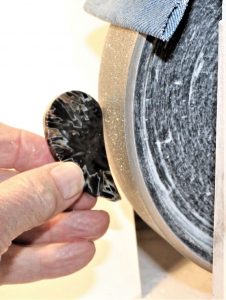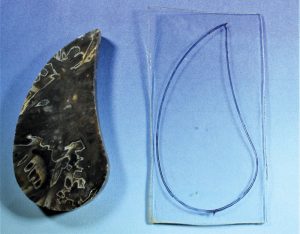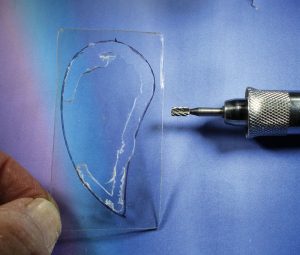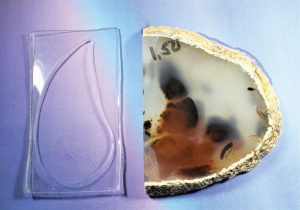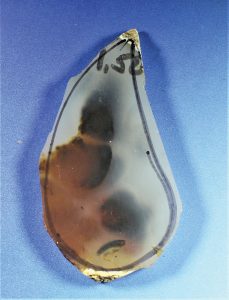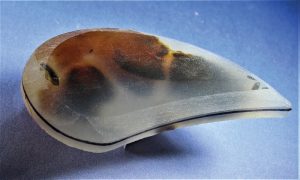 This Bench Tips column appeared in Rock & Gem magazine. Click here to subscribe. Story and photos by Bob Rush.