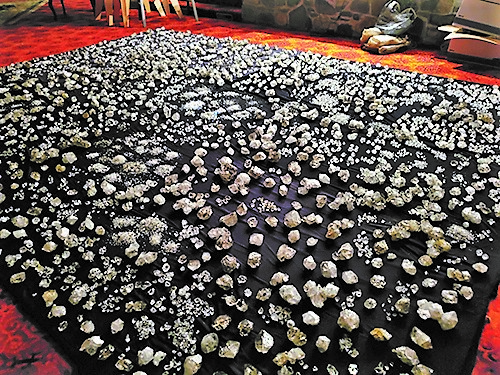 Warning! Hunting Herkimer diamonds can be addictive! Do you remember the moment you fell in love, and it honestly changed your life? Ed Halleran of Herkimer, New York certainly does.
It was 1983, he was in his early 30s, and it was a photograph of something he could only describe as "incredibly beautiful." The picture's subject was a Herkimer "diamond", which is actually a doubly terminated quartz crystal. And Halleran was not only hooked but he was smitten.
"I've seen a lot of things in my 68 years, but I still have never seen anything quite like the first sign of a Herkimer diamond as it's coming out of the ground," Halleran said.
Evolution of a Herkimer "Diamond" Fan
To say he's seen a lot may even be a bit of an understatement. As a military veteran, former owner and operator of a restaurant specializing in pizza, over-the-road truck driver through which he earned membership in the national Million-Mile Driver club, owner of thoroughbred horses, a husband, father, and rockhound, that's a lot of roles in which to gain life experience.
Each step in the journey has had its purpose, even if he didn't know it at the time, Halleran recalled. Now, after more than 30 years, he's revisiting — in a big way — that early love, Herkimer diamonds.
Reviving a Passion for Herkimer Quartz "Diamond"
For the past several decades, he's had a staggering collection of Herkimer specimens of a variety of shapes and colors, sitting in the basement of his home. To quantify staggering" it's estimated to be 1.5 million carats of double-terminated quartz crystals. The crystals are named after a location where they are found, Herkimer County, New York and the surrounding area. However, New York is not the only place to find these quartz crystals. Examples have been discovered in Arizona, Norway, Afghanistan, and Ukraine, among other locales.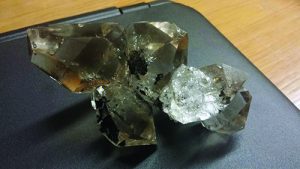 Many of the crystals in his collection were stored in buckets, and some in boxes, and all are the product of a passion for diamonds. It's a passion that, at one time, led him to seek out digging adventures wherever he could. Whether that meant an entire day at the Herkimer Diamond Development, or a few minutes spent in a rut looking for geological treasures on the side of the highway in Utah. Among his most fond memories of the years, he spent actively digging for diamonds, were those he spent in the company of his fellow rockhounds.
"It was Big George, he was an engineer, and Diamond Jim, the school teacher, Boston Jimmy, a geologist, Pocket Dale, the philosopher, Edge 111, the author, and myself," Halleran recalled. "We met in Field #2 at the Herkimer Diamond Development, and from there, we became friends and kind of a community of rockhounds.
"We each developed our own digging techniques, we'd share knowledge about the ancient seabed that was once the field, we'd discuss all sorts of topics, and a lot of the time after we'd spend the day digging, we'd go to Bev's Diner, which was near the field, and we'd talk some more."
Rockhounding Forms Lasting Memories
The "fellas of field number two" weren't the only memorable people Halleran met and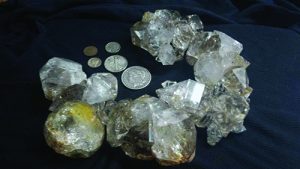 learned from during his years of prolific digging. Groups of children visiting the mine during school trips also had a big impact, he added. Halleran recalled one day in particular, when a busload of children arrived at the property, while Halleran and friends were prospecting. As the children came up, Halleran recalled, he put down his hammer and greeted the students who wore kid-size eye protection with small hammers in hand. A couple of the men used a prybar to lift a section of rock they had been working to break open, which revealed a cavity sparkling with crystals.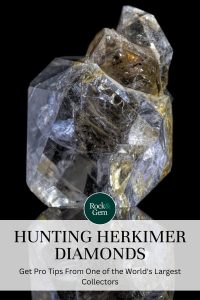 "The children were like a flock of seagulls swarming the rock, and we work to make sure each one was able to pick up one piece to put in their collection baggies — because each child was able to keep what they found.
"That was the greatest day I had in the mine."
As happens in life, sometimes, the fellow rockhounds of the group each followed their paths, and ultimately the meetups became less, and as years have gone on, they've lost touch, and some have passed away, Halleran said. But, the memories are still there, he added. Those memories are part of what has come alive as he's spent the last couple of years unpacking, sorting, and organizing the Herkimer diamonds of his collection.
To answer the question of why is he now unpacking the treasures he accumulated all those years ago, Halleran said, he's not certain, except that he is.
Seeking to Share Herkimer Treasures With Others
"I wish I had some intelligent reason I could tell you as to why now, but I can only say NOW is the right time," added Halleran, who has worked with Marcus Boehm to create a video about his collection, which can be found on his website, www.herkimerrockstar.com. View the video below…
During the process of organizing his collection, which he said has become like "mineral decor" in his home, he's also decided it's time to share some of these amazing items of nature with others. In addition to hoping to inspire others to appreciate Herkimer diamonds, Halleran hopes by sharing the story of how he came to have the collection, which he endearingly calls the "Herkimer Stardust" collection he can inspire others to explore the origins of these ancient treasures of nature.
"The greatest lesson from treasure hunting, mining, or playing with a pail and a shovel at the beach, is you tune into the oneness of nature," Halleran said. "At first, you don't see "it" or even maybe hear "it," but one day you do, because nature has been there all along, we just need to pay attention."
To view more examples of specimens in Halleran's collection, visit www.herkimerrockstar.com.
This story about hunting Herkimer diamonds appeared in a previous issue of Rock & Gem magazine. Click here to subscribe! Story by Antoinette Rahn.