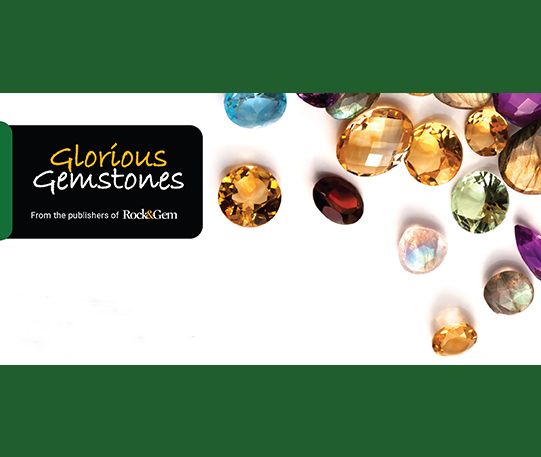 How much do you appreciate gemstones? Do you admire the vast colors? How about the dynamic shapes that can be created by cutting, polishing, faceting, stones? Or, maybe the natural sparkle and glistening present when light hits the edges and planes of gemstones? 
If any or all these aspects have you dreaming about gemstones, all we can say is: good, because it's those things and more that prompted us to focus our attention on gemstones for our newest FREE digital series.
The Glorious Gemstones series follows the wildly popular series, Illustrious Opals (issues available for download when you register for free on our site >>>). Within the three issues of Glorious Gemstones, we'll explore the science, artistry, and techniques for working with, collecting, and displaying stones, educational opportunities to expand your gemstone knowledge, and the global appreciation for gemstones. 
Among the specific topics we'll cover in the Glorious Gemstones series:
• Expert insight about prolific gemstone mines in the U.S.
• Details about gemstone identification and grading
• Fundamentals of faceting gemstones
• Stories of hunting for savorite, amethyst, spinel, and jade, among others
• Behind-the-scenes of studying to earn a gemology degree. 
• Showcase of U.S. State gemstones
• Juniors who are changing the landscape of creating with gemstones
Glorious Gemstones Schedule
March 31 — Issue #1 Available
May 31 — Issue #2 Available
July 30 — Issue #3 Available
*If you registered and received Illustrious Opals, you are set to access Glorious Gemstones, and you will receive an email when the first issue is available. 
PLUS, every issue contains the chance to win a gift certificate to use in purchasing gemstones or gear from one of the sponsors of the Glorious Gemstones series. 
Are you a dealer offering gemstones for sale? Or a business providing services and equipment that support working with gemstones? You can join the excitement of Glorious Gemstones by becoming a sponsor, wherein you'll receive a business profile, multiple promotion in Glorious Gemstones, Rock & Gem magazine, and Rock & Gem's online and social media platforms over the course of six months.
To learn more about sponsorship of Glorious Gemstones, please download the flier below and contact Rock & Gem advertising executive Tracy Alvarez at talvarez@beckett.com or 972-490-5212.