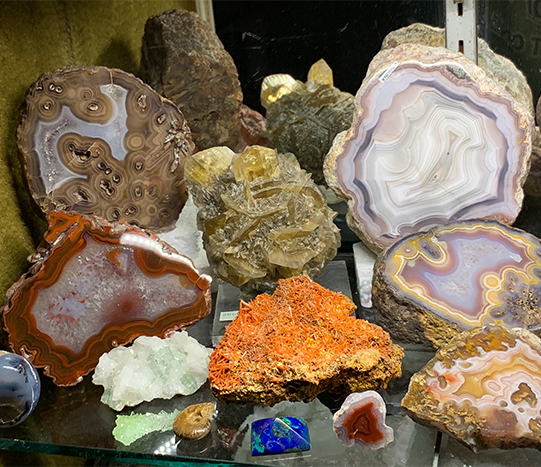 By Antoinette Rahn
It's fascinating how little time in life is spent in youth and yet so many of the experiences and memories of those years are critical in shaping the people we become and the lives we lead.
That's not to say that a youthful attitude is something that isn't a plus in every stage of life, or that we are not continually learning and growing in many ways. In fact, as you are likely aware, it's not uncommon to meet people within the rockhounding community who are youthful in their pursuits and foster a spirit of curiosity. These are some of the characteristics that often unite people from all walks of life who share an interest in rocks, gems, minerals, and fossils.
Early Introduction to Nature Appreciation
The above statement may describe more than a few people you know, and it most certainly describes rockhound and collector Jason Martinez. This Missouri resident's introduction to collecting nature's treasures began when he was 7 or 8 years of age while living in Ocala, Fla., he explained.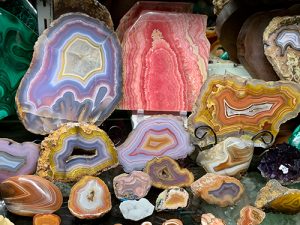 "On occasion, we would visit a place called Salt Springs, and while my brother and I were sifting through the sand we happened to find fossilized shark teeth," he stated. "That's when I first felt the excitement of finding something myself. After that (initial) experience
I would keep whatever fossils or crystals I would find. I did not really know the scope of possibilities that were out there for a personal collection until much later in life."
Although he spent many years studying specimens, collections, and discoveries he saw in references, it wasn't until a chance meeting with a man who would become a good friend and a rockhounding mentor, per se, that Martinez's interest was elevated to new heights.
Iowa Opens Doors to More Discovery
"In 2008, I moved to Waterloo, Iowa, and met a soon-to-be dear friend, Gene Burry, " he said. "(Gene) invited me to his home and showed me his amazing agate collection. There were countless Lake Superior, Laguna, Coyamito, Aqua Nueva, and Condors. I was amazed."
Amazement turned into opportunity when Martinez graciously accepted his new friend's invitation to join him on rockhounding excursions.
"Luckily Gene was a native of Iowa and knew of some sweet spots for hunting Lake Superior agates and Coldwater agates. We would head out on the weekends and fill up our pockets!"
More than a decade later, Martinez' appreciation for collecting continues, along with other interests within the rock, gem, mineral, and fossil world.
Enjoying the Expansion of An Interest
Today his collection numbers more than 300 specimens. They are displayed in a collection case and throughout his house. While agates are the most abundant stone in his collection and are considered his favorite, Martinez doesn't have a favorite type of agate.
"I just enjoy the color and pattern variations in them," he said. "Also what
draws my attention to agates is the complexity of formation and how no two agates are the same."
Over the years he's become more intrigued by the practice of lapidary. Currently, he cuts cabochons and does wire-wrapping to construct pendants of agates and petrified wood, among other materials. The more pendants he makes, the more he can sell, and the more funds he has for his "rock addition," Martinez said.
Whether it's searching the shores of Lake Superior for agates, telling visitors to the family home about his collection, or transforming specimens into lapidary art jewelry, there's no question that what began as a youthful adventure for Martinez continues to be a rewarding pursuit.