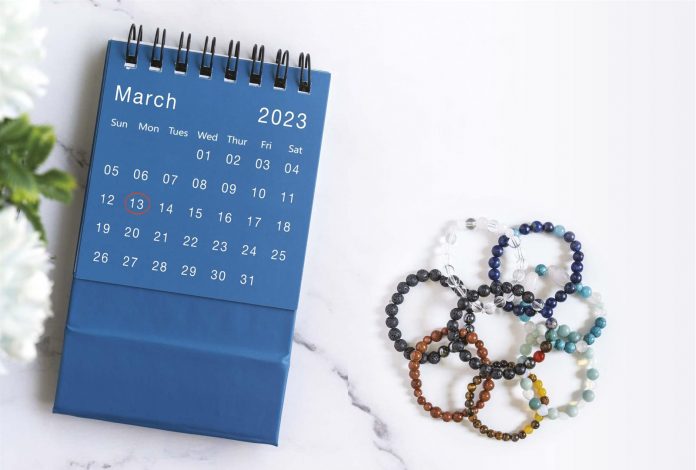 People often say there's a holiday for everything, and they're right. The good news is there are some fun holidays for rockhounds to enjoy and celebrate. Here's a handy list to jot on your calendar and enjoy through the year.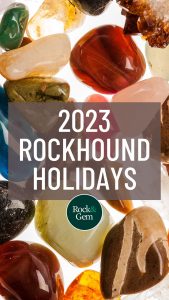 Old Rock Day – January 7
This day is set aside (though no one knows how long it has been observed or when it was first celebrated), to consider how old the Earth is and how it has shaped our lives. It's also a shout-out to some of the earliest geologists like the Theophrathes, Pliny the Elder, Ulisse Aldovandi, James Hutton and William Smith.
National Jewel Day – March 13
This special day is set aside to appreciate precious stones and jewelry. From the earliest examples of stone, bone, and shell jewelry, to the most lavish and intricate designs of today, National Jewel Day is meant to recognize them all. Those who choose to participate are encouraged to wear their most spectacular bejeweled pieces and take the occasion to gift jewelry to those important people in their life.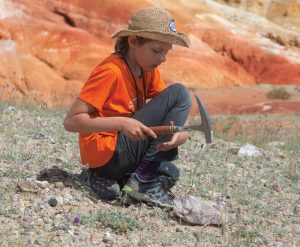 Geologists Day – April 2
This day is dedicated to those folks who make it their life's work to explore, research and disseminate their knowledge of rocks and Earth's history. It is also the time to appreciate all of those things in our lives that we have or know because of geologists. This includes such daily used items as toothpaste and even cell phones. Younger folks contemplating a career in geology can take this opportunity to discuss with practitioners in the field, what the job is actually like.
Earth Day – April 22
You can't get any "Earthier" than rocks, gems and minerals. This is a day for rockhounds to explore and to appreciate Earth's treasures.
Nickel Day – May 16
Devoted to the mined element, nickel, this day was created to acknowledge this important metal. Nickel has been used by humans for at least 2,000 years. By the middle of the 19th century, it was ubiquitous in American coinage as well as that of other European nations.
Dinosaur Days – May 15 & June 1
Dinosaurs lived millions of years ago, but they're top of mind today. So much is still unknown about these fascinating creatures. Celebrate what we know and anticipate what we don't on this fun day for young and old alike.
National Caves & Karst Day – June 6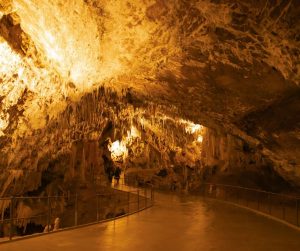 This day is dedicated to the majesty and importance of these amazing rock formations. Most people know what caves are, but few are familiar with "karst" landscapes. A karst landscape is characterized by rocky hills, aquifers, springs, sinkholes and caves. Hundreds of different minerals and gems are found in caves, and 40 percent of drinking water in the U.S. comes from karst aquifers.
World Oceans Day – June 8
Beach finds from shells to rocks, minerals and sea glass are a favorite. Celebrate the oceans that bring us this bounty.
International Drop a Rock Day – July 3
This a day for having a bit of fun while inspiring kindness toward others. Across the world, individuals, families, and groups of all types get creative and paint rocks with pictures, themed messages, or even advertising and hide them. Anyone can try to find them. When they are found, the lucky holder of that rock can keep it, hide it again, or if it is part of a local promotion, contact the sponsoring group. This highly popular activity is not restricted to International Drop a Rock Day; many groups do this throughout the year and hold rock-painting parties before going out and hiding them.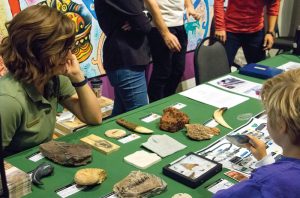 International Rock Day – July 13
Sometimes referred to as World Rock Day, this day is intended to celebrate and to contemplate the importance of rocks to humankind. It is to honor the rock as one of the most fundamental aspects of human survival. If there is one day per year to give rocks their due, this is it!
Pet Rock Day – September 3
This tongue-in-cheek holiday is dedicated to the 1975 marketing scheme that led to the sale of over one million pet rocks. On this day, many people "adopt" a pet rock at functions planned to celebrate this phenomenon.
Collect Rocks Day – September 16
Held since 2015, Collect Rocks Day celebrates all of the diverse types of rocks and all of the different places they can be collected, no matter where in the world you live. It is a celebration of Earth and geology for everyone.
International Fossil Day – October 11
As the name implies, this day is reserved for appreciating and exploring fossils. Of the approximately 250,000 different fossilized species that have been identified, it is estimated there are millions more to be found. Many groups organize fossil hunts and expeditions on this day in early fall. Be sure to find one near you.
This story about rockhound holidays appeared in Rock & Gem magazine. Click here to subscribe. Story by Chris Bond.