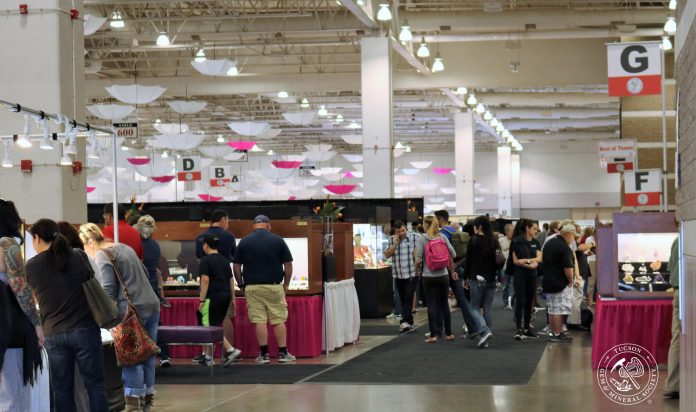 The Tucson Gem and Mineral show means that in February Tucson becomes the international hub for buying and selling colored gems, rocks, minerals, and fossils. From amateur enthusiasts to professional gemologists, to school groups, to lapidarists and jewelers, the city of Tucson is host to all things stones.
Attending the show for the first time can be overwhelming. The Tucson Convention Center and surrounding streets are filled with booths and displays. Hotel rooms and lobbies across the city become showrooms. There are lectures, opportunities for children and places for serious enthusiasts and professionals to connect with experts and beautiful stones. While there is no way to see the entire show, planning ahead will help you make the most of the time you have. Here are 12 tips to help you get the most out of your Tucson experience.
1. Book Well in Advance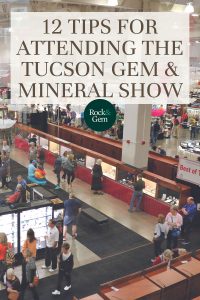 Hotels, motels, Airbnb and VRBO offerings, and guest rooms of friends and family will be quickly reserved for the weekend. Some have found bookings so limited that they've opted to stay up to two hours away in Phoenix. If you'll need a rental car, book that early as well.
2. Do Your Homework
If you are there on a mission to find a particular kind of gemstone, be prepared by understanding where the vendors of that type of stone will be. Take time to review the vendor list carefully. Map out where you'd like to go and who you want to meet with keeping your priorities in mind.
3. Use The Buddy System
Perhaps you know someone who has been to the show before or who has a specialty you can learn more about. Ask if you might shadow them through the show. For instance, if you know an experienced gemologist, join forces with them to learn what they see with their professional expertise. Ask questions.
4. Have a Business Card
Be prepared to make connections. You never know who you might meet and what you might need in the future. Consider this a relationship-building opportunity. You may hit it off with a certain gem or stone vendor and want to stay in touch. Take the time to start building relationships that will support your hobby or budding business.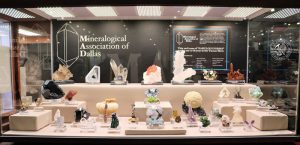 5. Value & Respect Cultural Differences
Vendors travel from across the globe to display their wares in Tucson. Be respectful when asking questions about the items they are selling. Understand that not every culture welcomes or appreciates dickering over a price. Before you decide to explore this possibility, consider whether it might or might not be welcomed.
6. Demonstrate Your Seriousness
If you intend to buy, prepare the questions you will ask to reflect your intentions and knowledge. If a seller doesn't think you are serious, they may not even give you a second glance.
7. Network
If you are a budding gemologist, jeweler or enthusiast seeking to grow your knowledge and expertise, introduce yourself. Invite a conversation by being respectful, curious and intentional about what you are there to learn. Consider asking for business cards and sending follow-up messages via email or snail mail with a couple of vendors whom you'd like to work with in the future. You never know how networking will serve you as you grow your interests and knowledge.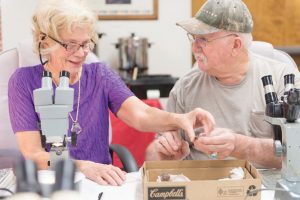 8. Plan a Budget
If you are there to purchase stones for specific projects, know what you want to spend. Then, visit more than one vendor to explore what price points and products are available. The advantage of being there in person is the opportunity to shop prices between dealers while seeing their goods up close. Be prepared to pay with cash or a credit card.
9. Public Show Vs. Association Exhibits
Understand there are plenty of opportunities to explore and even buy while attending the public portions of the show. However, for a more advanced experience, you may choose to invest in attending the American Gem Trade Association (AGTA) portion of the show.
According to the AGTA website, the trade show is the "ultimate destination for quality, beauty and integrity in the world of colored gemstones and cultured pearls." The show offers sales by the most trusted professionals in the industry. This is another opportunity to extend your learning, build relationships and network for future business opportunities.
Attending this portion of the show, however, requires certain credentials and investment in necessary entrance fees. Visit the AGTA website at www.agta.org to learn more about the credentials you'll need to access the professional parts of the show.
10. The Public Show has Loads to Offer
From rocks, fossils and gems to silver, turquoise and copper jewelry, to loose stones and more, it is possible to explore and discover some great finds. All the networking suggestions apply to either the public or AGTA aspects of the show. Not only can you network with vendors, but you may also find you can ask questions, learn from and share ideas with others attending the public show. It is a great place to start if you are a beginner.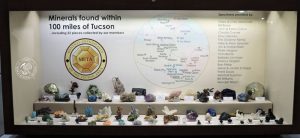 11. Wear Comfortable Shoes
Attending the Tucson Gem and Mineral show is exciting and fun. And it is massive! Be prepared to walk. A lot. Enjoy meeting other people, exploring all the beauty of the natural world. Look, listen and learn. Go in with the understanding that there is no way to see it all. There are opportunities galore when attending this magnificent event. Give yourself plenty of time for exploring, participating and engaging.
12. Gather Business Cards, Brochures, and Relevant Catalogs
Gather business cards, brochures and relevant catalogs. At the end of the day, take time to assemble notes about those you've connected with. You can jot a couple of notes on the back of each business card as well as in the margins of the program. Names, areas of expertise and anything else that is relevant to your interests are essential to write down while it's still fresh in your mind. If you wait until later, you may not capture important details!
This story about the Tucson Gem & Mineral Show appeared in Rock & Gem magazine. Click here to subscribe. Story by Deb Brandt.