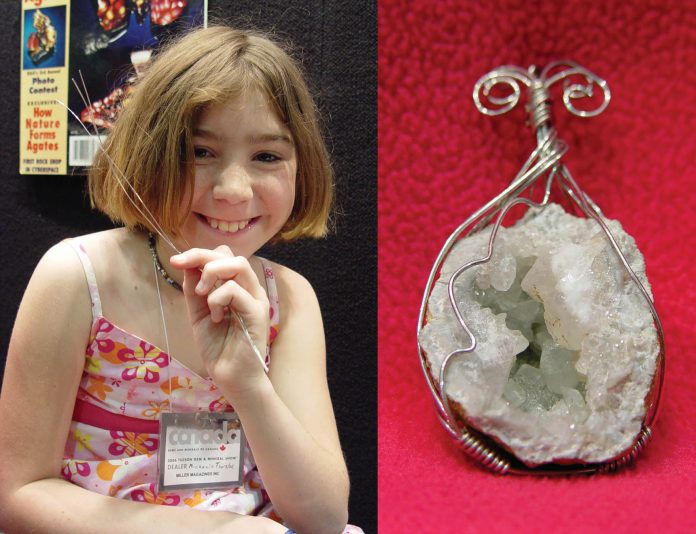 by Jim Brace-Thompson
Juniors Program Chair, AFMS
Kids love arts and crafts and making pretty things. Thus, one of the more popular units within our AFMS/Future Rockhounds of America Badge Program is Lapidary Arts. I've heard that some clubs have actually banned kids from their workshop facilities, concerned about safety issues or damage to expensive machines like Genies or Pixies. However, as noted in our Badge Manual, there are many basic lapidary arts that don't require any machinery at all.
Suggested projects along this line include rock painting, making "rock critters", crafting light-catchers with tumble-polished agates, sand art, beading, crafting wind chimes, or polishing soft stones by hand with wet-or-dry sandpaper. If you're hesitant to have kids use rock saws and grinding units, check out these ideas and more in the Badge Manual at http://amfed.org/fra/fra_badge.htm.
Dennis Gertenbach and Jacque Mahan, of the Flatiron Minerals Society (Colorado), recently contacted me about a project that proved especially popular successful for them. Their Junior Geologists had just concluded a basic wire wrap project that attracted more kids (33 in all!) than have attended any of their past lessons and activities. Using just two small pieces of wire and a tumble-polished stone, each child crafted a beautiful pendant. One of the leaders, Craig Hazelton, led the meeting and even produced a how-to YouTube video that is clear, direct, and easy to follow: https://www.youtube.com/watch?v=pqOzlsFyXvI&feature=youtu.be.
I encourage junior leaders of all AFMS-affiliated societies to check it out, then give it a try with your club's kids. It looks like any easy project for kids to do while, as always, having fun!