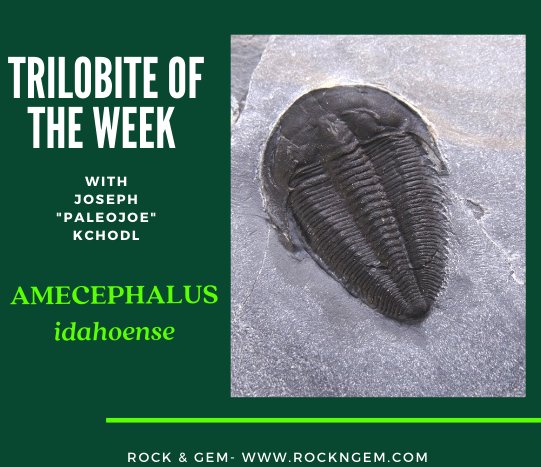 By Joseph "PaleoJoe" Kchodl
The Trilobite of the Week is AMECEPHALUS idahoense and it is found in the Spence Shale of the Wellsville Mountains in Utah. The Wellsville Mountains sit at the northern end of the Wasatch Mountain Range. 
Editor's Note: Research reveals more than 50 unique species of trilobites have been found within the Cambrian Spence Shale. In addition, dig discoveries reveal the Spence Shale also contains various echinoderms and fossils of soft-tissue animals. 
The AMECEPHALUS idahoense trilobite has a large semi-circular cephalon with very small eyes. The glabella is broad in the front. The cephalon ends in very small spines and the thorax often contains 25 segments. The central or axial lobe is quite thin compared to the two pleural lobes. The thorax ends in a very small pygidium or tail section, and the thorax to pygidium is roughly triangular in shape.
Cheers to trilobites — which are an extinct form of arthropod related to insects, crabs, crayfish, and horseshoe crabs. These creatures are called trilobite due to the three distinct "lobes" running vertically through the body section.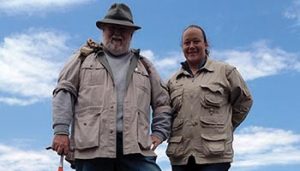 About the columnist: Joseph "PaleoJoe" Kchodl is a paleontologist, educator, veteran, author, fossil dig organizer/guide, business owner, husband, father, and grandfather, and fossil fanatic. For decades, he's spent hours in classrooms around the Midwestern United States and beyond, speaking to school children about fossils and fossil hunting. Visit his site to purchase fossils, contact PaleoJoe, visit www.paleojoe.com.
Plus, learn more about PaleoJoe and his daughter PaleoJen and their paleontology exploration partnership in an the article "Fueling a Passion for Paleontology".