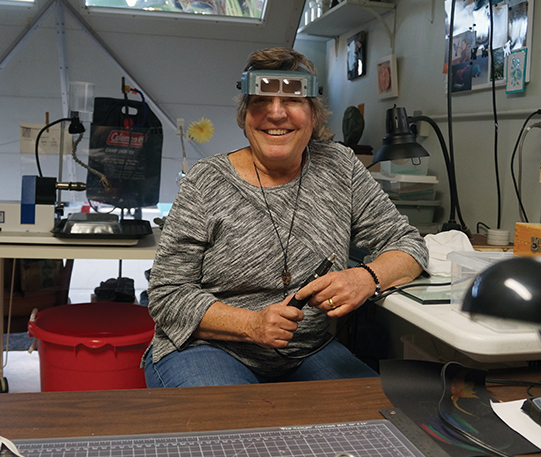 By Helen Serras-Herman
Nancy Arthur-McGehee is a remarkably unique artist. She is a classically trained gem and glass engraver and scientific illustrator. Her body of work includes drawings and natural history scientific illustrations and hand-engraved intaglio gems, glass vessels, and panels.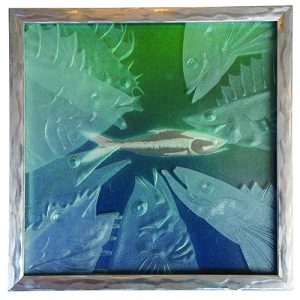 I have known Nancy for well over a decade through our association with the Gem Artists of North America (GANA). We cross paths in Tucson almost every year during the gem shows and worked closely organizing the GANA exhibit in the Hillman Hall of Minerals and Gems at the Carnegie Museum of Natural History in Pittsburgh in 2014. We have had the opportunity to learn more about each other's artwork during this past year and strengthen our friendship.
My husband, Andrew, and I visited San Diego in November 2019. Part of that trip was a pre-planned visit to Nancy's studio. Before heading to her studio, we stopped at one of her favorite places, the Pacific Rim Park Pearl of the Pacific, with architectural sculptures created by artist James T. Hubbell (see my Road Report column). The Pacific Rim Park Pearl of the Pacific was the first insight into who has inspired Nancy's art.
Our next stop was the NOAA Southwest Fisheries Science Center (National Oceanic and Atmospheric Administration) in La Jolla. That was a true eye-opener into Nancy's art world. But before we go on, let's take a look at her life and art studies.
Life and Art Studies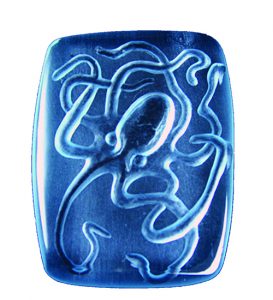 Nancy was born in La Jolla Shores in 1951 when her parents moved there. She studied at the Art Center College of Design in Los Angeles, California, from 1968 to 1970 and then furthered her studies at the Nova Scotia College of Art and Design in Halifax, Canada, from 1971 to 1973. Besides her studio classes, she studied Art History. She was particularly impressed by the work of Marcel Duchamp, the French-American painter and sculptor (1887-1968) whose work is associated with cubism, Dada, and conceptual art. It was the early 70s, and Nancy wanted nothing to do with the established art institutions and saw her greatest artistic freedom in the marketplace.
Engraving struck her as an enduring way to apply her love for drawing on a commercially desirable medium. Glass is everywhere, so she figured there could be no end for commercial applications. And that is how she started glass engraving over 30 years ago.
Nancy furthered her studies and honed her skills on glass engraving by studying with Jiri Harcuba at the Pilchuck Glass School (1986), with Judy Jenson at the Penland School of Crafts (2001), and with Frantisek Janak at the Pittsburgh School of Glass (2004).
Glass Engraving Techniques
Glass engraving is in many ways similar to gem engraving, the main difference being that the material used is glass. For the most part, engravers choose an object, such as a beverage container, goblet, vase, or plate that is already finished, and engrave their design on the surface. In comparison, most gem engravers carve the object and the surface to be engraved, starting from a rough piece of gem material. However, today there are many finished cabochon and faceted gems on the market that the engraver may choose on which to execute their engraving.
The decorative art form of glass engraving differs from molding or blowing glass. It is also different from glass etching, for which artists use acidic, caustic, or abrasive substances to achieve their results. There is a variety of techniques used for glass engraving. One is stippling or point engraving, in which the surface of the glass is abraded (scraped) with the use of a hand-held scriber with a sharp diamond or tungsten carbide tip. The pattern is created by marking tiny dots or fine lines on the glass surface, with varying degrees of solidity or shading.
Another technique is intaglio work, with images and inscriptions incised onto the surface through abrasion. It is done with hand-held micro-motor drills, lathes, or flexible shafts (Dremel, Foredom or Proxxon), or laser cutters. Diamond-tipped burrs and wheels are used, as well as copper wheels with silicon carbide abrasive compound.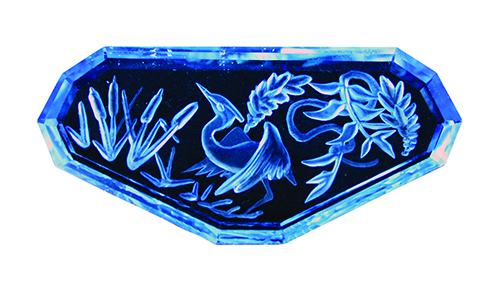 One more technique used in glass engraving is sandblasting. The glass surface is prepared by covering the areas not to be engraved with masking material. The glass object is then subjected to a high-pressure air blast carrying an abrasive medium (https://www.fitzmuseum.cam.ac.uk/gallery/glassengravers/index.html).
The glass object may be lightly engraved or deeply cut. Some portions may be completely cut away, leaving an open-lattice pattern, or part of the colored layers may be removed, just as cameo carving on gemstones. Common subjects include traditional illustrative and figurative engraving, lettering, and modern abstract work.
Many artists combine two or more techniques for glass engraving, and so does Nancy, depending on the object she chooses to engrave. A few years ago, she collaborated with Buzz Blodgett, who, in her estimation, is the best glassblower in Southern California and among the best in the United States. Together, they created cameo glass pieces, which is an art form Nancy had dreamed of making for years. Not located near any great glass-making traditions, she was delighted that they, both natives of the California coastline, mastered the skills to create these cameo glasses.
Fish drawings and glass engravings at NOAA Southwest Fisheries Science Center
In 1993, biologists Dr. Geoff Moser and Bill Watson from NOAA suggested that Nancy help them with some science illustrations. The illustrations were for an upcoming book titled The Early Stages of Fishes in the California Current Ecosystem, by CalCOFI (California Cooperative Oceanic Fisheries Investigations). Upon its publication in 1996, the book was regarded as an instant classic in the scientific community. The biologists trained Nancy on how to look at larval fish and the conventions in fish illustration. Working with the team, doing what she calls, "My art in the service of science," has proved to be some of Nancy's most satisfying work and a source of some of her richest friendships.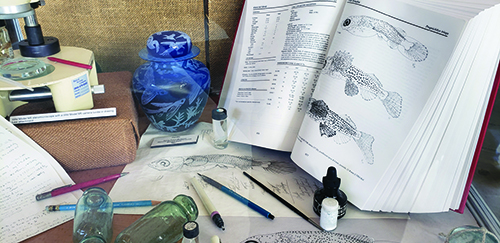 Interestingly enough, her father, a biologist, had come to San Diego and attended the Scripps Institution of Oceanography, one of the oldest centers for ocean and Earth science research. The NOAA Southwest Fisheries Science Center is located on the north side of the Scripps campus. At the lobby of the NOAA Southwest Fisheries Science Center La Jolla Laboratory, there are three exhibit cases filled with Nancy's research and artwork, which took more than two years to complete. Her original ink pen drawings of fishes and their larval stages, published in two scientific pieces of research, are on display. Her glass engravings feature the marine habitat of the fisheries. Examples include sardines swimming in the ocean and flying fish engraved on beautiful blue glass vases, and Pacific sand crab larvae on beer glasses. Small glass panels are also engraved with anchovy swirls, lacquered and painted, and backed up with a mirror to intensify the images. They all showed me another fold of the art world with which I was not too familiar.
The Studio
On one side of her workshop is all the equipment for her hand-engraved pieces, both glass and gems. Nancy uses diamond burrs and drills in a flexible shaft attached to a motor. She also has a fixed arbor with a water drip tank and a flex line that adjusts the water to exactly where it's needed. The fixed arbor is also called a fixed-point carving system.
Many contemporary gem artists use both styles of carving. The first method, known as "the tool to the stone," is similar to the ancient way of working with the bow drill. This approach may provide greater accuracy to the fine works and reduce the chances of the stone flying out of the hands. The second method of holding the stone in hand against a stationary rotating lathe, used since Roman times and during the Middle Ages, is still predominant today in Germany. That method is known as "the stone to the tool."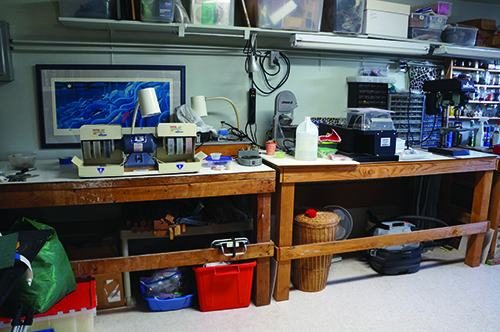 At the other side of her workshop is all of her lapidary equipment on three wooden benches that stretch the room's entire length. Nancy has a six-wheel rotating machine (Genie by Diamond Pacific), a dop pot that is thermostatically controlled for melting waxes used for dopping stones, and a faceting machine (an old Ultra-Tec model). On the bench are a tabletop band saw (Inland Craft) that allows cutting curves, especially inside curves and intricate shapes in stone and glass; a 10-inch trim saw by Lortone for slabbing small rocks trimming slabs; and a drill press.
That is pretty much how many gem artists' workshops look. Besides being rock addicts, hoarding every gem material that comes our way, we are also tool addicts, amassing various items of lapidary equipment, machinery, and burrs.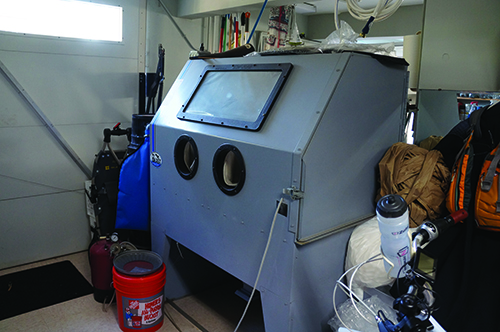 In her work, Nancy also uses a sandblasting technique. In another corner of her workshop, she has a pressure pot sandblasting system made by Bob Pickard called PABblaster. The booth is a commercial Skat-Blast cabinet with a vacuum and dust collector. Sand-like abrasive grit is blasted under pressure against the exposed glass and erodes the surface. Nancy covers the glass with a stencil to protect it, draws her designs, and then cuts with an X-Acto precision knife. After that, she blasts the exposed glass to create frosted layers and depth. That process may be repeated several times to achieve her final result and is called deep-layered stage blasting.
Nancy's Artwork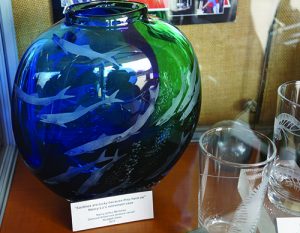 After looking at all the studio equipment, Nancy opened several boxes and revealed a few amazing glass objects. Among them was a gorgeous yellow glass vase with open-lattice work and a small blue perfume bottle titled "Honey Bee Blueberry Perfumer" engraved with beautiful foliage and a bumblebee on the stopper. Then, she opened a large box, and wow! An absolutely stunning huge turquoise blue vase emerged, engraved with an underwater scene with a mermaid and fishes swimming all around. Nancy loves rich, saturated colors for her glass vessels and urns, and these were perfect examples.
Afterward, Nancy brought out small glass cases with her precious engraved gems. She loves using mostly monochromatic gemstones, including quartz, cornelian, and topaz, as those show the engraving best. Her intaglio engravings are done on the back surface, in reserve, to capture light and texture, and the finished object is viewed from the front. While working on the engraving, she often takes wax impressions to check the progress of the details, as they show better in relief form. At the end, she takes a final imprint to register the finished engraving.
Signet seals are usually cut shallow and with no undercutting so that the sealing wax can be pulled out of the grooves without losing any details. Intaglios and deep internal carvings are usually left in a sanded stage instead of being highly polished, as they take advantage of the crystal's refraction and magnification to project volume.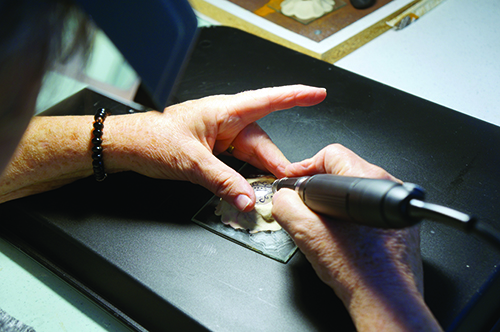 The foliage theme and representational creatures that reference nature, seen in her glass engravings, are also repeated in her gemstone engravings. I loved a magical Hippocamp/Neptune's Horse engraving on a 64-carat white topaz crystal and the 66-carat octopus on a blue topaz. Very intricate engraving work, mostly on pieces that are about one to two inches in size.
Her strong drawing and illustration background fuel Nancy's design images, which she calls her drawings studies, and from which she develops ideas for her designs. She studies the movement or that "thing" that gives sense to the quality of life and strives to transfer it in her engravings. She recalls what the famous Indian artist, Nandalal Bose, called "the divine unity, the life rhythm." Nancy finds inspiration for her designs in her garden, the ocean, and her beloved shoreline.
A question several people pose to her, and all gem carvers, is, "How long does it take to carve an object?" Although some pieces are created within a few hours or days, complex pieces take much longer. Time spent on lengthy drawings or models is almost impossible to calculate, and Nancy concurred that it is very difficult to keep track of the time spent on her studies, which are essential for her artistic process.
As we turned a corner in her studio, we smiled at a great T-shirt hanging on the wall, with a nature print from her rockfish research with the fisheries. The T-shirt hung in the Smithsonian's American History Museum for one year in 1986-87.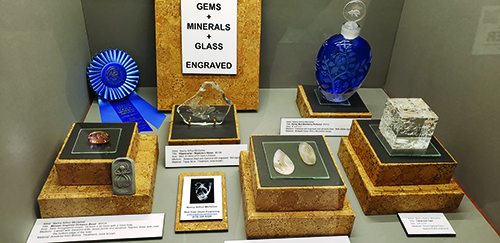 We got together again during the 2020 Tucson Gem & Mineral Show®, where Nancy also participated as a guest exhibitor with a small case filled with her beautiful glass and gem engravings. Among them was a beautiful 54-carat ametrine from Bolivia titled "Minoan inspired octopus bead" and a stunning hand-engraved cube of optical glass titled "Tidewrack cube," measuring 2.5 x 2.5 inches. Tidewrack is a word for marine litter, natural debris, or human-made items accidentally or deliberately released into open water. In my opinion, it's quite lovely and powerful for a very small sculpture to make such a very big environmental statement.
Nancy's artwork has been exhibited in over 30 galleries and museum exhibitions, from coast to coast nationwide, winning several awards over the years. Nancy believes that it is of the utmost importance for an artist to find an authentic voice. She turned to her background to find hers. Feeling her father's influence in the way she looks at nature, it is where she finds comfort, inspiration, and solace. And it is all reflected in her unique multi-faceted artwork.
For more information or to contact artist Nancy Arthur-McGehee, whose company is Red Gate Glass Engraving, visit www.nancyarthurmcgehee.com, email artmcg@sbcglobal.net, or call 619-228-6220.
---
Author:
Helen Serras-Herman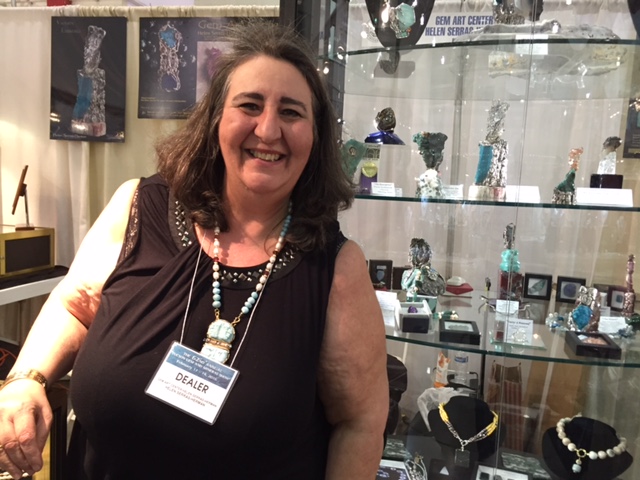 Helen Serras-Herman, a 2003 National Lapidary Hall of Fame inductee, is an acclaimed gem sculptor and gemologist with over 37 years of experience in unique gem sculpture and jewelry art. Visit her website at www.gemartcenter.com and her business Facebook page at Gem Art Center/Helen Serras-Herman.
---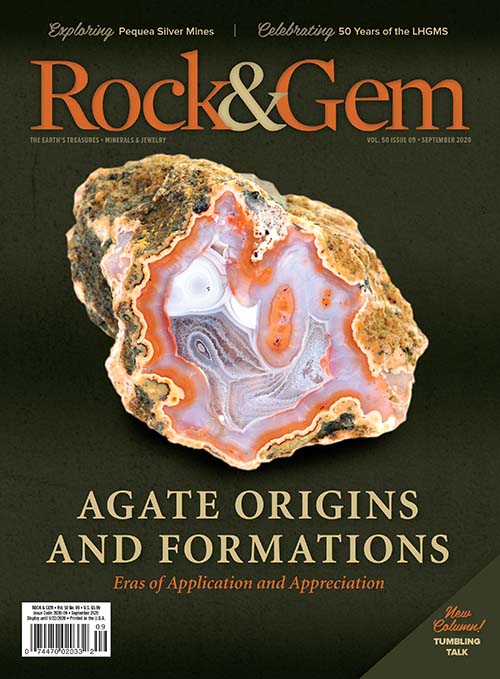 If you enjoyed what you've read here we invite you to consider signing up for the FREE Rock & Gem weekly newsletter. Learn more>>>
In addition, we invite you to consider subscribing to Rock & Gem magazine. The cost for a one-year U.S. subscription (12 issues) is $29.95. Learn more >>>
---