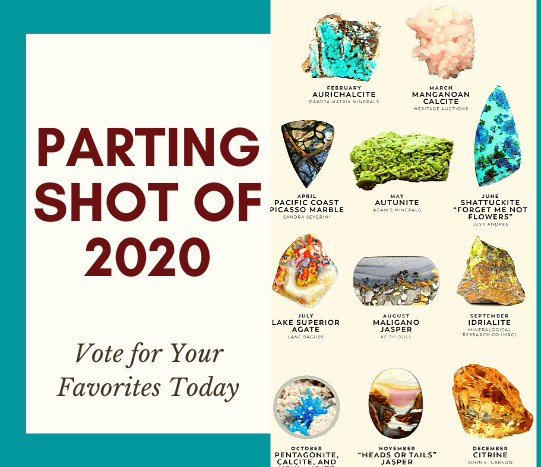 It's that time of year again to participate in "Vote for the Parting Shot" of 2020!
This marks the third year we've held this event, which shines the light once again on the photos featured in the Parting Shot spot of Rock & Gem issues of the past year.
Please note, we do not have a January Parting Shot because we use the January issue to announce our Parting Shot Voting event. If you aren't too tired of "voting" talk, we're calling on you to consider voting for your top 3 choices of Parting Shot images.
By casting your vote, you'll be in the running for a chance to win one of two Parting Shot gift packs. We like to keep a little mystery about the prize packs' contents, but we can tell you we've become quite good at creating enjoyable gift packs!
HOW TO VOTE: It's pretty simple. Review the Parting Shots pictured below and sign into our site (you'll need to create a free account) and then place your top three selections in a comment submit. We'll approve your comment with your three selections, register your votes, and you'll be in the running for a chance to win one of the gift packs. OR, if you'd rather, you can email the managing editor, Antoinette Rahn (arahn@beckett.com), with your three choices.