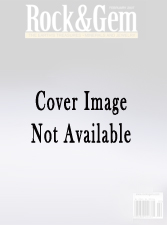 November 2004
Vol.34 Num.11

Table of Contents (pdf)
Features

The Yin-Yang of Beryl

Red beryl complements green in jewelry and philosophy

by Bob Jones

The Frugal Collector: The Oxides

Part III: The list of collectible oxides is endless!

by Bob Jones

Roadside Panning Sites in Alabama

Part II: Coosa, Elmore, Etowah, Jackson, Lee, and Madison counties

by David and Clois Walker

Rock & Gem Kids

How did people learn to use minerals?

by Steve Decker

London's Dinosaurs

Meet the stars of Britain's Natural History Museum

by Murray Eiland

Captivated by Kundan

Dazzling Indian jewelry combines gold, gems and enamel

by Brinda Gill

Fossil Collecting in Erfoud

You might call it Morocco's "Fossil Capital"

by Bob Farrar

Field Trips

Ilion Gorge Travertine

This New York collecting site is still prolific

by Michael Walter

Alabama's Coal-Age Coral Reefs

Road cuts expose a variety of fossils

by Deborah Painter

Oklahoma Agate

Collecting along the Cimarron River and Black Mesa Canyon

by Kenneth H. Rohn

Kingston Quartz

Starburst crystals light up the Black Range

by Robert Beard

Projects

A Ginkgo Leaf Brooch

Solder mixed metals for a pleasing contrast

by Diane Prokop