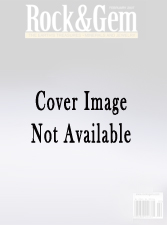 August 2003
Vol.33 Num.8

Features

The Amethyst Silver of Creede

Ore that's pretty to look at

by Steve Voynick

Panning Sites along U.S. Highway 70

Try your luck in North Carolina

by David and Clois Walker

A Mineral a Month--By Mail

Can't collect? Join the club!

by Steve Voynick

Mexico's Newest Quartz

Scepters rule at the Llana Mine

by Bob Jones

Rebuilding a Legacy

A rock club breathes new life into an old building

by Ruth Chin

Faceting Ovals and Fancy Shapes

An accurate and repeatable method

by Jim Perkins

Gemology: Learning the Craft

Part 7 begins a discussion on diamond grading

by Douglas S. Le Grand, G.G.

Labradorite or Spectrolite?

The origin is in the name

by Gail O. Clark

Multifaceted Marble

It has uses in industry and art

by Bob Jones

Diamond Ledge Quartz

Specimens from the good old days

by Bill Clark

The Frugal Collector: Pyrite Packs a Punch

Add golden color to your collection

by Bob Jones

Field Trips

East Grants Ridge Topaz

You're guaranteed to find tiny, clear crystals

by Robert Beard