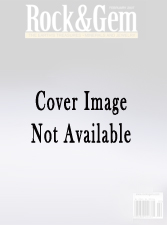 September 2001
Vol.31 Num.9

Table of Contents (pdf)
Features

Subterranean Wonders

Travel to the center of the earth with our senior editor

by Bob Jones

The World's Most Valuable Fossil

How much would you pay for the world's best T. rex skeleton?

by Steve Voynick

A Fossil Preparator's Primer

Tips for restoring and preserving your ancient treasures

by Peter Larson

Classical Paleontology

How much did the Greeks and Romans know about fossils?

by Steve Voynick

Cripple Creek Turquoise

There's gold in that there turquoise!

by Bob Jones

Are They Real?

How to tell fossils from nonfossils

by Deborah Painter

Crawfordsville Crinoids

The rarest, most complete specimens come from Indiana

by Jim Brace-Thompson

Vesta Wade's Fossil Fern

Amateurs can still make important finds

by Lance Strong

Field Trips

Fossils of the Treasure State

Collecting invertebrates in Montana

by Kenneth H. Rohn

Projects

Make an Ammonite Pendant

Turn your prized finds into wearable art

by Lynn Vogt

Fashioning Gemstone Leaves

Semiprecious stones are alive with fall colors

by Frank Heiser