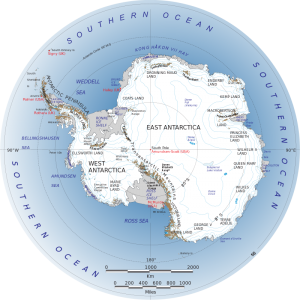 Story by Helen Serras-Herman

A voyage to Antarctica is a dream journey for many of us. The cold temperatures, the remoteness, the rough sea crossings, and the huge expense, however, place it beyond the average traveler's reach. As much as I would like to travel to Antarctica, following in the steps of the famous explorers, unfortunately, I did not. But my friends and fellow members of the Tucson Gem & Mineral Society (TGMS), Robert and Elaine Royer, did just that.
Upon their return, both the TGMS and the Old Pueblo Lapidary Club (OPLC) in Tucson were treated to a fantastic presentation, with great photos and information, and stories sprinkled with their distinctive humor. Robert and Elaine talked about the geology and the rocks of this ice-covered continent, showing stunning photos of the natural beauty of Antarctica.
Robert, better known as Bob, and Elaine moved to Tucson from upstate New York in 2009, escaping, they said, "the cold, snow and ice in the winter and the insects and humidity in the summer". Bob retired from a life as a nuclear engineer and Elaine from teaching. Elaine takes pride in having visited all seven continents.
Bob and Elaine's two-week voyage to Antarctica started in Buenos Aires, Argentina, in November 2012. Then they joined the Antarctica's White Wilderness tour, a small ship cruise tour with Overseas Adventure Travel (www.oattravel.com/tripsavailable?b=OAT%7CGCF%7CGCCL%7CGCT&q=Antarctica). They boarded the 98-passenger Corinthian II at Ushuaia, the southernmost city in the world, and sailed through the Drake Passage, finally landing on and cruising along West Antarctica.
For the full article, see the June 2016 issue.
Rock & Gem magazine, 5235 Mission Oaks Blvd. #201, Camarillo, CA 93003  /  (972) 448-4626
editor@rockngem.com