Rock & Gem Kids is a monthly feature that offers articles, puzzles, and a quiz with prizes for junior rockhounds.
QUIZ ANSWERS
1. Apache tears are small nodules of obsidian/volcanic glass.
2. Apache tears are colored by iron oxides.
3. The mountain Big Picacho became known as Apache Leap .
4. Kaolin clay is an effective medicine for stomach problems.
5. Humans, like minerals, are made up of elements and compounds.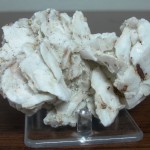 February winners received a
 specimen of the pseudomorph
 gypsum after glauberite from
 Camp Verde, Arizona, generously
 donated by the Mineral of the
 Month Club (www.mineralofthemonthclub.org).