Rock & Gem Kids is a monthly feature that offers articles, puzzles, and a quiz with prizes for junior rockhounds.
QUIZ ANSWERS
1. Sillimanite is a polymorph with kyanite and andalusite.
2. Silimanite that occurs in fibrous masses with a silky luster is called fibrolite.
3. Belemnites lacked external shells, but they had a hard internal structure called a rostrum.
4. Water-clear "Herkimer diamonds" sparkle like real diamonds.
5. "Pecos diamonds" have a geometric diamond shape.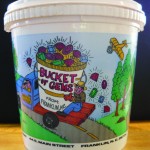 This month's winners received
a half-gallon bucket of enriched
gem gravel, generously donated
by Ruby City Gems 
(www.rubycity.com).

——————————
A Mineral If-Then Challenge Answers
©2012 Darryl Powell/Diamond Dan Publications
1. If a metallic mineral has cubic cleavage, then it is probably galena.
2. If a copper ore is green, and it is not azurite, then it is malachite.
3. If quartz is brown, then it is called citrine.
4. If tourmaline is black, then it is called schorl.
5. If spodumene is pink, then it is called kunzite.
6. If this mineral is hit with steel and a hot spark is formed, then it must be pyrite.
7. If iron ore sticks to steel, then it is called magnetite.
8. If a mineral can dissolve in water and it makes food taste better, then it is called halite.
9. If a mineral specimen has the shape of one mineral but the chemical formula of a different mineral, then it is called a pseudomorph.
10. If you are holding a green variety of feldspar, then you are probably holding amazonite.
11. If this carbon mineral is mixed with clay to make pencil "lead," then it is called graphite.
12. If a mineral is heated and crushed to form plaster of Paris, then it must be gypsum.
13. If this mineral scratches everything, then it must be diamond.
14. If I am a variety of corundum and I am blue, then I am called sapphire.